Trump decertifies Iran deal, punting the landmark nuclear agreement to Congress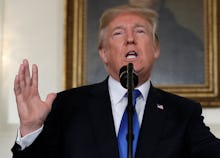 President Donald Trump announced Friday that his administration is shifting to a more combative strategy on Iran, pulling back on the nuclear deal that he has described as "one of the worst and most one-sided transactions the United States has ever entered into."
"We cannot and will not make this certification," Trump said from the White House Friday. "We will not continue down a path whose predictable conclusion is more violence, more terror and the very real threat of Iran's nuclear breakout."
Trump said Friday that he will "work close" with Congress to address what he said were the "many serious flaws" of the Iran nuclear deal, including its so-called "sunset clause" and "insufficient enforcement."
He also said that the agreement will be under "continuous review" and that he reserves the right to cancel it at any time.
Additionally, he said that he has directed his Treasury department to impose "tough" new sanctions on Iran's Revolutionary Guard.
"The longer we ignore a threat, the worse that threat becomes," Trump said.
The landmark agreement, which was struck by former President Barack Obama in 2015, stipulates that the U.S. will unfreeze tens of billions of dollars of Iran's assets if the country reduces its number of uranium enrichment centrifuges and shrinks its uranium stockpile by 98%.
Obama told Mic at the time that the deal "prevents Iran from getting a nuclear weapon" and helps keep the U.S. from having to conduct a potential military strike on the country.
But Trump opposed the accord from the get-go, tweeting in July 2015 that it "poses a direct threat to national security."
He and other Republicans argued that the deal was too soft on Iran, failing to account for off-shore uranium production and employing too lax an inspection standard.
Trump strongly implied in his address to the United Nations General Assembly in September that he would pull the U.S. out of the deal.
"Frankly, that deal was an embarrassment to the United States, and I don't think you've heard the last of it," Trump said. "Believe me."
What's next for the U.S. and Iran?
The U.S. is not pulling out of the deal — at least not yet.
By decertifying the deal, Trump is now punting the future of the agreement back to Congress. The administration will seek to reimpose sanctions on the country, or at the very least impose a set of "trigger points" that could lead to sanctions being reinstated.
If they do not act, Trump could still "rip" up the deal, as he promised to do on the campaign trail.
The deal "can be canceled by me, as president, at any time," he said Friday.
That could lead to Iran pulling out of the deal themselves, the speaker of the country's parliament told Russian state media earlier in the day.
Two Republican Senators — Bob Corker of Tennessee and Tom Cotton of Arkansas — have begun working on legislation that "would institute an automatic reinstatement of U.S. sanctions against Iran if the nation comes within a year of nuclear capability," Politico reported Friday.
The original legislation required Trump to recertify the deal every 90 days. The Trump administration has previously found Iran to be compliant with the deal, despite Trump's claim that Tehran had violated its terms "before the ink was dry." He repeated this claim in his address Friday, saying Iran had committed "multiple violations" of the deal.
However, NBC News reported Secretary of State Rex Tillerson said that while the administration does not disagree that Iran is "technically compliant" with the demands of the current deal the administration wants an agreement with "more teeth."