Trump picks CEO with no science background to oversee National Weather Service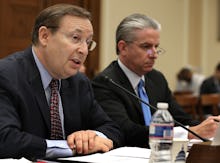 President Trump's pick to head the National Oceanic and Atmospheric Administration is Barry Myers — a private CEO who has previously clashed with the National Weather Service, which the agency oversees.
The nomination is controversial because Myers, a businessman and lawyer who runs the weather service AccuWeather, has previously lobbied in favor of measures to restrict the information that the NWS is permitted to release to the public in order to give private companies like his a leg up in promoting their own products. According to the Washington Post, the nomination also breaks with decades of precedent for nominating someone with a science background to fill the NOAA administrator role.
Myers' appointment has already proven contentious in some weather circles, with Ciaran Clayton — who served as communications director at NOAA during the Obama administration — calling it a conflict of interest outright.
"Barry Myers defines 'conflict of interest,'" she told the Post. "He actively lobbied to privatize the National Weather Service, which works day in and day out to protect the lives and livelihoods of millions of Americans, to benefit his own company's bottom line."
In a July letter to Congress, the union representing weather service employees said that Myers' ties to the private sector would inevitably influence his ability to helm the NOAA in an unbiased manner.
"As NOAA administrator, he would be in a position to fundamentally alter the nature of weather services that NOAA provides the nation to the benefit of his family-owned business," Richard Hirn, the union's attorney, wrote.
On its website, AccuWeather also lists a vaguely stated position on the existence of manmade climate change — a stance that does little to allay the existing concerns of the scientific community.
"Global climate change is a matter of intense concern and public importance," the site reads. "There can be little doubt that human beings influence the world's climate. At the same time, our knowledge of the extent, progress, mechanisms and results of global climate change is still incomplete."
Myers isn't the first appointee of the Trump administration whose nomination has kicked off rumblings of conflict of interest. Scott Pruitt — Trump's pick to head the Environmental Protection Agency, the federal entity devoted to safeguarding human health and the environment, is a notorious climate change doubter.