#WomenBoycottTwitter is another example of the disconnect between white feminists and women of color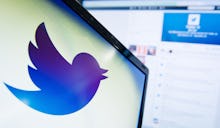 On Friday, some women are taking a 24-hour leave of absence from Twitter, using the hashtag #WomenBoycottTwitter, to protest the platform's silencing of women. Celebrities including Chrissy Teigen, Kathy Griffin and Alyssa Milano have rallied in support following the suspension of actress Rose McGowan from Twitter Wednesday. McGowan was tweeting about rape allegations against Hollywood film producer Harvey Weinstein, when she apparently broke Twitter's rules by tweeting out a phone number.
Initially, #WomenBoycottTwitter sprung up after McGowan, known for her roles on Charmed and Scream, spoke out about her Twitter suspension via Instagram. "Twitter has suspended me. There are powerful forces at work. Be my voice. #RoseArmy," she wrote Wednesday. Before being temporarily censored, McGowan had accused Weinstein of rape and alleged that Amazon executive Roy Price remained silent when she complained to him about the incident.
But some black women and their supporters are tweeting despite this protest, asking why the same level of solidarity hasn't been given to women of color who have been been silenced for speaking out against social issues on the social media platform. Director Ava Duvernay and musician Questlove were among the first to challenge white women's galvanizing support for the hashtag.
Jemele Hill, host of ESPN's His and Hers, and one of the few black women on the network, was given a two-week suspension from her show for violating the network's social media guidelines. Hill's tweets in response to Dallas Cowboys' owner Jerry Jones landed her in hot water. Jones tweeted he would bench players if they kneeled in protest during the National Anthem. Trump also attacked Hill on Twitter, after she said his leadership is an example of "white supremacy."
Others offered an alternative to #WomenBoycottTwitter Friday, including April Reign, who came up with the hashtag #WOCAffirmation to amplify women of color's contributions to society on Friday morning.
During discussions around #WomenBoycottTwitter, some recalled the throwback hashtag #SolidarityisforWhiteWomen. Mikki Kendall created the tag in 2013 to criticize white feminists for supporting author and former gender studies professor Hugo Schwyzer, after black women complained about his racist misogyny toward them. Kendall continued to reflect on the hashtag's relevancy, and added that silence as a form of resistance is not enough to help black women and girls.
Although news about Weinstein's alleged harassment should be exposed, it is still unnerving that this level of outrage is often only reserved for white women when they are victims of misogyny and sexual harassment. From the racist trolls that attacked Leslie Jones to Jemele Hill's current dilemma, there have been several opportunities for white feminists to show their solidarity with black women yet far too often they decide that silence is their method of resistance.