Trump administration says it'll shut down the government if Trump doesn't get his wall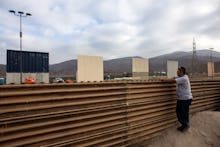 President Donald Trump remains determined to build his long-promised wall along the U.S.-Mexico border, so much so that a top administration official said he's willing to shut down the government to secure funding for the project.
Mick Mulvaney, director of the Office of Management and Budget, told Politico that if Congress sends Trump a funding bill that doesn't include wall funding, it's "highly unlikely" he'd sign it — a move that would trigger a government shutdown.
"The president fully expects his priorities to be funded, and the wall is one of them," Mulvaney said. "It would be highly unlikely for the president to sign a funding bill in December that does not fund his priorities."
Congress passed a short-term spending bill in September that funded the government through Dec. 15. If Congress doesn't pass a funding bill Trump is willing to sign by that date, the government would shut down.
This isn't the first time the Trump administration has threatened a government shutdown over wall funding.
"If we have to close down our government, we're building that wall," Trump said in August. "One way or the other, we're going to get that wall."
However, Trump has twice backed down on his threat.
If the government did shut down over the wall, a Republican-controlled Congress and White House would likely shoulder the blame, creating a potential political problem for the party in the 2018 midterm elections.