How Trump's decision on Iran nuclear agreement could hurt US diplomatic efforts in North Korea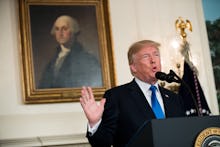 President Donald Trump's decision to decertify the Iran nuclear agreement won't just impact the relationship between the United States and Tehran — it could also have a significant impact on the ongoing U.S.-North Korea standoff.
Trump on Friday instructed Congress to strengthen former President Barack Obama's landmark 2015 agreement or else he would end it — a move that could hurt the U.S. more than Iran, as it would likely isolate America from its European allies and weaken its influence in the Middle East.
But that's not all, according to Waheguru Pal Singh Sidhu, a foreign policy expert at the Brookings Institute — if Trump were to "rip" up the deal, as he has said he would do, it could also hurt America's credibility in its attempt to keep North Korea from continuing its nuclear program.
"If the U.S. reneges, this will become an excuse for [North Korea] to justify even further for them their nuclear program and say we can't negotiate with such an untrustworthy partner," Sidhu said in a phone interview. "That will really complicate the North Koreans' outlook."
Trump has identified both Iran and North Korea as two of the greatest threats to the U.S. In a speech to the United Nations General Assembly in September, he said that Iran was a dictatorship masquerading as a democracy whose "chief exports are 'violence, bloodshed and chaos.'" In the same speech, he added that he would "totally destroy" North Korea if its "twisted" regime continued its provocations.
"If the righteous many do not confront the wicked few, then evil will triumph," Trump said in the speech. "When decent people and nations become bystanders to history, the forces of destruction only gather power and strength."
But his tough talk on North Korea has only gotten him deeper into a game of nuclear brinkmanship with the Kim regime, which said his fiery rhetoric has made an attack on the U.S. "inevitable."
His administration, though, has continued to push for diplomatic solutions on the peninsula — efforts that could be undermined by a withdrawal from the Iran nuclear deal, according to Sidhu, a visiting clinical assistant professor of global affairs at New York University's School of Professional Studies.
"The whole approach to the policy seems to be disconnected," he said.
The U.S., United Kingdom, Germany, France, Russia and China all signed the accord with Iran in 2015. Obama said at the time that the deal "prevents Iran from getting a nuclear weapon," but critics — including Trump — argued that it was too soft on the country. Trump on Friday put the future of the agreement in the hands of Congress, though he emphasized that it "could be canceled by me, as president, at any time."