This week in Trump-Russia news: Mueller meets with Reince Priebus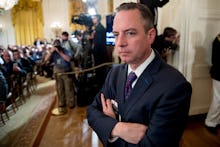 Reince Priebus — President Donald Trump's former chief of staff — met with special counsel Robert Mueller's investigators on Friday, according to reports.
The apparently wide-ranging interview was one of several Mueller's team is expected to conduct with prominent former and current White House staffers, including former press secretary Sean Spicer.
Here's what you need to know about Mueller's Priebus interview — and other developments in the ongoing Trump-Russia saga this week.
Priebus interviewed in FBI investigation
According to Politico, Mueller's team interviewed Priebus regarding Trump's firing of FBI director James Comey, Trump's meetings with Russians and the deceptive statement the president dictated for his son after it was revealed he'd met with a Kremlin-connected lawyer after being promised compromising information on Hillary Clinton.
Priebus prepared for the interview for several weeks, according to the report.
Priebus served as Trump's chief of staff until July, when Trump unceremoniously replaced him with retired general John Kelly.
Manafort's ties to Russian magnate stronger than thought
Paul Manafort's financial ties with a Russian oligarch connected to Vladimir Putin are much stronger than previously known, NBC News reported Friday.
According to the report, a company associated with Manafort received a $26 million loan from a company owned by Oleg Deripaska — a Kremlin-affiliated aluminum magnate.
That makes the financial stake of their known business dealings to approximately $60 million, according to NBC News.
The ex-Trump campaign chairman had reportedly offered Deripaska private briefings on the 2016 campaign.
While Manafort has admitted to working with Deripaska in the past, he has denied that it was to advance Putin's interests, the Associated Press reported in March.
Stone says he complied with House request on Assange
Trump ally Roger Stone has complied with a request from House Russia investigators to produce the identity of his bridge to WikiLeaks founder Julian Assange, his lawyer told CNN on Friday.
Stone had declined to name the go-between when he appeared before the House intelligence committee in September, saying he was "not going to burn somebody I spoke to off the record."
He has denied having contact with WikiLeaks, though he said in a since-deleted tweet in March that he had a "perfectly legal back channel to Assange who indeed had the goods on #CrookedHillary."
Trump continues to dismiss Russian interference
Trump is continuing to downplay Russia's meddling in the 2016 presidential election.
In an interview with Fox News' Sean Hannity on Wednesday, Trump claimed that Democrats "sat in a room" after the election and said, "'Why did you lose the election,' and they said, 'Ah, it was Russia! Russia!'"
"Russia was an excuse used by the Democrats when they lost the election," Trump said. "It wasn't Russia, it was a bad candidate."
Trump has repeatedly dismissed the role Russia played in the 2016 election and called investigations into his campaign's ties to Russia "the single greatest witch hunt of a politician in American history."
But despite publicly downplaying any Russian involvement in the election, his legal team has been looking to better cooperate with Mueller's probe in hopes that it will clear the president's name. That new strategy on the Russia saga continued this week, when it was reported that the president's lawyers may be preparing to offer Mueller and his team an opportunity to interview him.