Bannon says Trump will win in 2020 with 400 electoral votes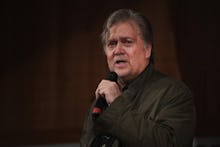 Steve Bannon is awfully confident in President Donald Trump's re-election chances.
The shadowy former chief White House strategist said at the Values Voter Summit in Washington on Saturday that he believes the president will win in 2020 with 400 electoral votes — nearly 100 more than he notched in 2016.
Bannon's comments come days after Vanity Fair reported that he had predicted Trump had just a 30% chance of finishing out his full first term.
"I hate to break it Graydon Carter and the good folks at Vanity Fair, but yes, President Trump is not only going to finish this term, he's going to win with 400 electoral votes in 2020," Bannon said.
It was just the latest in a string of seemingly bipolar actions and statements regarding the president since Bannon left the Trump administration.
After being fired by the president in August, Bannon returned to his old post as executive chairman of Breitbart News and promised to "go to war for Trump." But the alt-right publication began taking digs at Trump immediately upon Bannon's homecoming. In September, amid news that Trump had met with top Democratic leaders to discuss a deal on the Deferred Action for Childhood Arrivals program, Bannon's publication hammered the president as "Amnesty Don."
Perhaps most notably, the two found themselves on opposite sides of the Republican primary contest for Attorney General Jeff Sessions' former Alabama Senate seat.
Trump supported Luther Strange, who has been temporarily occupying the seat since being appointed by Gov. Robert Bentley, while Bannon backed Roy Moore — the far-right extremist who beat out "Big Luther" and will now face Democrat Doug Jones in the state's special general election.
On Saturday, Bannon predicted that the "populist, nationalist, conservative revolt that's going on" will bring Moore and other way-right Republicans to power in 2018, just as he says it will for Trump in 2020.
Trump won just 306 electoral votes to beat Hillary Clinton in 2016 — good for just the 46th largest electoral win in 58 United States elections, according to the New York Times. He currently has just a 38% approval rating, according to Gallup.