CNN asked Tillerson if he really called Trump a "moron." He refused to deny it 3 times in a row.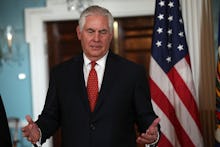 U.S. Secretary of State Rex Tillerson made headlines when NBC News reported he had privately called President Donald Trump a "moron" — and while the Tillerson has since reinforced his commitment to Trump, he still isn't denying the insult.
In an appearance Sunday on CNN's State of the Union, host Jake Tapper asked Tillerson about the alleged comments, to which Tillerson simply responded that he was "not going to dignify the question" — without actually denying the comment.
"I'm not going to deal with that petty stuff," Tillerson said. "I mean, this is a town that seems to relish in gossip, rumor, innuendo and they feed on one another in a very destructive way. I don't work that way, I don't deal that way, and I'm just not going to dignify the question."
"I call the president 'Mr. President,' Tillerson continued. "He and I have a very open, frank, candid relationship. ... We have a very open exchange of views on policy; at the end of the day, he makes the decisions, I go out and do the best I can to execute those decisions successfully, and he understands at all times what we are trying to achieve to implement his foreign policy."
Tillerson acknowledged that Trump is "not a conventional president," explaining that Trump "does not accept the status quo, and [is] going to take forcing actions."
Later in the interview, Tillerson described Trump as "the most unique president in modern history," and reinforced his commitment to the president's agenda.
"But again, I say I am fully committed to his objectives," Tillerson said. "I agree with his objectives, I agree with what he's trying to do. How he wants to use his own skills actively to push things toward change, I'm there to help him achieve those."
When pushed by Tapper to specifically answer whether he had called Trump a "moron," however, Tillerson continued to deflect. "As I said Jake, I'm not playing. ... These are the destructive games of this town," Tillerson said. "They're not helpful to anyone, and so my position on it is: I'm not playing."
"I'm willing to move on, but I just want to be clear: You still haven't denied that you called him a moron," Tapper responded. "And you know, a lot of people are going to watch this and think, 'He probably said it.'"
"I'm not dignifying the question with an answer, Jake, and I'm a little surprised you want to spend so much time on it when there's so many important issues around the world to deal with," Tillerson said in response.
During his appearance on CNN, Tillerson also addressed Trump's decision to decertify the Iran nuclear deal without fully withdrawing from it, saying that Trump did remain committed to working within the agreement, while hoping to make some improvements.
"We want to take the agreement as it is today, ... fully enforce that agreement, and be very demanding of Iran's compliance of the agreement," Tillerson said, "and then begin the process of addressing these flaws."
Tillerson also addressed the ongoing escalating tensions with North Korea, particularly after Trump publicly took to Twitter to disagree with Tillerson's push for a diplomatic solution — a tactic that Tillerson maintains Trump is open to.
"What the president is doing is he's trying to motivate action ... I think he does want to be clear with Kim Jong Un and that regime in North Korea that he does have military preparations ready to go," Tillerson said. "But to be clear, the president has also made clear to me that he does want to solve it diplomatically, he does not want to go to war.
"He has made it clear to me to continue my diplomatic mission, which we are, and as I've told others, those diplomatic efforts will continue until the first bomb drops."
Tillerson even cited Trump's dealings with North Korea as one of the foreign policy actions Tillerson is most proud of during Trump's presidency thus far, telling Tapper, "We have the international community more unified against NK's nuclear program than we've ever seen."