On 'Meet the Press,' Gov. John Kasich seems to fuel rumors he's running for president in 2020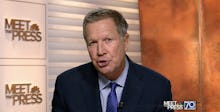 During an appearance on Sunday morning on NBC's Meet the Press, Ohio Gov. John Kasich again refused to deny rumors he's considering a bid for the White House in 2020 — in fact, he seemed to add fuel to the fire.
"I don't know what I'm going to do tomorrow," Kasich said, answering host Chuck Todd's question about the Republican's plans for the next presidential election. "But I will tell you this: The other day... my wife said to me, one morning, 'You know, John, I wish you were president.' That's how I knew the country was in trouble."
"Boy, there's an anecdote a lot of people will use to say, 'You might be running in 2020," Todd responded.
This isn't the first time Kasich has hinted there's truth to the rumors he's considering a gambit for the White House in 2020, potentially defecting against his own party in the process. In early October, Kasich told CNN's Jake Tapper that he could envision a future in which the Republican Party became so toxic that he could no longer support it.
"There is a struggle for the soul of the Republican Party," Kasich said. "If that's where we're headed ... if the party can't be fixed, Jake, then I am not going to be able to support the party. Period. That's the end of it."
He later added, "People are beginning to say I don't like either [party] — and that says something big."
The remarks tracked with reports on CNN and Axios that Kasich was considering a bid for the presidency on a so-called "unity" ticket. According to a source, CNN reported, Kasich would run as an independent along with Democratic Gov. John Hickenlooper of Colorado.
"The idea of a joint ticket has been discussed, but not at an organizational or planning level," the source told CNN. "What they are trying to show the country is that honorable people can disagree, but you can still problem solve together. It happens in businesses and it happens in families. Why can't it happen in Washington?"
However, Kasich emphatically denied those rumors at a previous appearance on Meet the Press in August.
"Chuck, look, Kasich/Hickenlooper... you couldn't — first of all, you couldn't pronounce it," he said. "And secondly, you couldn't fit it on a bumper sticker. The answer is no [we aren't running for president together], OK?"
But on Sunday, Kasich offered no denial — emphatic or otherwise — to Todd's suggestion that one could construe the governor's remarks as a hint that he would run in 2020.