Mic Wakeup: Woody Allen, John Kasich and Rex Tillerson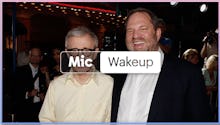 Here are three stories for Monday, Oct. 16, 2017, to get your morning started.
Woody Allen warns of a witch hunt
Amid a firestorm over accusations of sexual harassment, assault and rape against Hollywood producer Harvey Weinstein, iconic film director Woody Allen, himself accused of molesting his former romantic partner Mia Farrow's daughter, weighed in on the scandal, warning the public of turning the increased scrutiny of powerful men in America into a "witch hunt."
"You also don't want it to lead to a witch hunt atmosphere, a Salem atmosphere, where every guy in an office who winks at a woman is suddenly having to call a lawyer to defend himself," Allen said. "That's not right either. But sure, you hope that something like this could be transformed into a benefit for people rather than just a sad or tragic situation."
Here's the full story.
Rex Tillerson's Morongate
U.S. Secretary of State Rex Tillerson appeared on CNN's State of the Union on Sunday to talk the decertification of the Iran deal, but host Jake Tapper had other plans. When the discussion on foreign policy reached its conclusion, Tapper turned the conversation to reports on the growing frost in Tillerson and President Donald Trump's relationship.
When Tapper asked if Tillerson really called Trump a "moron," the secretary refused to answer the question. Three times in a row. It got a little awkward.
Kasich 2020?
He lost to Trump in the 2016 Republican primary — and at a Sunday appearance on Meet the Press, he may have hinted that he wants a rematch in 2020.
When NBC News' Chuck Todd asked Republican Gov. John Kasich of Ohio whether he would run for president in 2020, the governor did not deny that he was mulling a run. He even told an anecdote that, according to the host, would fuel the rumors that he was considering a challenge to Trump in the next election. Check it out.