The Hype List: What to check out this week, including Jessie Ware, 'Lore', 'Malala's Magic Pencil'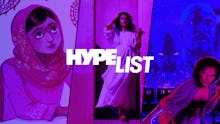 Welcome to the Hype List, a weekly recommendations series in which columnist Tirhakah Love highlights all of the pop culture happenings — movies, music, television, books and more — that you need to know about.
Music: Glasshouse by Jessie Ware
With a voice as resounding and clear as hers, it's a wonder Jessie Ware is still referred to as "London's best kept secret." Perhaps that sense of secrecy is there by design — the 33-year old's impressive mix of R&B, dance and pop-soul was buoyed by the accessible yet opaque lyricism of her 2012 debut, Devotion, and its follow-up, 2014's Tough Love. But Ware's new LP, Glasshouse, opens a line of intimacy and vulnerability the artist has never explored.
That new pointedness can be felt in the chorus of Ware's recent single, the fraught "Selfish Love," in which she diagnoses a shared callousness between lovers: "I break you down, just to get my way/ Selfish love, darlin' you do it too/ You tell me lies and I bend the truth." Ware's finally matching the clarity of her voice with transparent, autobiographical songwriting — and it's giving us her most inviting work yet.
Glasshouse will be released on Friday via Island Records.
Book: Malala's Magic Pencil by Malala Yousafzai
Within the same month that she matriculated to the University of Oxford, human rights activist and Nobel prize-winner Malala Yousafzai is releasing a new picture book. Called Malala's Magic Pencil, the upcoming children's title demonstrates the power that hope can have against global political nihilism — which, in 2017, feels absolutely necessary for kids and adults alike. Across the book's pages (which feature the jovial imagery of Kerascoët, the husband-and-wife illustrating team of Sébastien Cosset and Marie Pommepuy), the 20-year-old writer brings to life her childhood wish of magically rewriting the world with a pencil, the powers of which are only limited by her own imagination.
Scribbling in another hour for sleep every morning, erasing the stench of garbage from her city — as a child, Yousafazi apparently wished for a magic pencil to achieve both; eventually, grander ambitions took hold of her imagination, and now she's translated those dreams into her first picture book. Yousafzai's nuanced telling of her childhood fantasies further cements her as one of her generation's most thoughtful, forward-looking leaders. In her more-than-capable hands, Malala's Magic Pencil isn't just some fairytale; it's a statement about the power to reimagine and rebuild a crumbling world.
Malala's Magic Pencil will be available Tuesday (Little, Brown Books for Young Readers).
Comic Book: Black Panther and the Crew: We Are the Streets
It's very difficult in mainstream comics to find black language and history that is so unforced, so organically articulated, that it resounds like sermons spoken by neighborhood soothsayers. Enter Ta-Nehisi Coates and literary artist Yona Harvey's short run on Black Panther and the Crew, which is steeped in a premium blend of Harlemite myth-making and the Duboisian double consciousnesses that comes with being both black and a hero in a steadily whitening Harlem. But the six-issue arc — collected here, in a book subtitled "We Are the Streets" — doesn't stay in modern Manhattan; there's an expansive history explored: We see black superheroes throughout the ages, shutting down bootlegging gangsters in prohibition-era Harlem, attending the first Afro-Asian Conference in Bandung, Indonesia, in 1955 and on the front lines of anti-police brutality marches in the 2010s.
A cadre of generation-defining black heroes take the spotlight (including Black Panther, Storm, Misty Knight, Luke Cage and Manifold), but we also get an intriguing story following the loss of a beloved Harlem hero, the Lynx, who dies while in police custody. Coates and Harvey tell the tale of a black superteam caught in the middle of seeking justice for an old friend and the extra-legal machinations of corrupt police and government officials. It's one of the most socially relevant Marvel comics we've seen in years.
Black Panther and the Crew: We Are the Streets will be available on Wednesday via Marvel Comics.
Music: Sonder Son by Brent Faiyaz
Brent Faiyaz, the mesmerizing voice behind Goldlink's "Crew" (aka one of 2017's coldest records), dropped his debut solo album, Sonder Son, on Friday and it's too good to miss. The Maryland-bred singer — who also fronts the trio Sonder, with producers Dpat and Atu — possesses an enveloping versatility.
In the first half alone, Faiyaz goes from waxing poetic about long-gone lovers over a lo-fi acoustic guitar, on "Burn One" ("I don't see you so much no more/ I rarely pray, but I just pray that you're well/ I know you cry every night"), to using heady boom-bap to target a culture of greed, on "First World Problemz/Nobody Carez" ("Shit is deeper than Neiman/ Marcus or your Hollywood starlets / Underneath, this nigga starving, impoverished").
In the previous installment of this column, we mentioned that male R&B crooners can't really hang with their more creatively daring female counterparts. Well, Faiyaz and his layered, fluttering vocals attempt to make up the difference with a wailing sensuality perfect for a night cap. Feast your ears.
Sonder Son is available now via Lost Kids.
TV: Lore
Halloween is fast approaching and Amazon's celebrating by adapting Lore, the much-acclaimed horror anthology podcast by writer/producer Aaron Mahnke, into six exhilarating episodes of television. Backed by a few folks who know a thing or two about horror and adaptations (namely Gale Anne Hurd and Glen Morgan, executive producers on The Walking Dead and The X-Files, respectively), Lore features an unnerving, methodical approach that mixes Mahnke's creepy, intense narration and documentary-style reenactment of true stories.
Early episodes deal, in uncomfortable terms, with the deadly power wielded by men in a male-dominated society (to avoid spoilers, we'll leave it at that). Lore does dip into themes of the supernatural — insofar as its characters believe in ghosts and untamed spirits — but, as Mahnke told the Guardian in 2015, "all of the material is from documented stories or historical events." As cliche as it may sound, the true nature of human beings is plenty terrifying.
Lore is available now on Amazon Video.
Movie: Death in the Terminal
With the documentary Death in the Terminal, directors Tali Shemesh and Asaf Sudry recreate the scene of a terrifying attack on Oct. 18, 2015, at a bus station in Beersheba, Israel. On that day, a gunman entered the bus terminal and opened fire. According to the New York Times, the attack left at least nine people wounded and an Israeli soldier dead.
There were another two people among the dead, though: the gunman and a bystander mistaken for a second gunman, who eventually died from wounds sustained after being shot by a security guard and beaten by a mob. Executive produced by Mark Boal and Megan Ellison, Death in the Terminal is more than just a tense re-enactment of a deadly attack — it's a disquieting look at the effect prejudice has on a society, and how people respond to violence and fear. The roughly hourlong documentary started streaming online in September, but it's a vital enough viewing experience that we're highlighting it here.
Death in the Terminal is available now on Topic.