Accuser subpoenas Trump for documents related to sexual assault allegation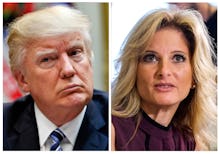 A woman who accused President Donald Trump of sexual assault subpoenaed his campaign for all documents related to the numerous sexual assault allegations levied against him last year, BuzzFeed reported.
Summer Zervos, a former contestant on The Apprentice who accused Trump of sexually assaulting her back in 2007, subpoenaed all documents related to "any woman alleging that Donald J. Trump touched her inappropriately."
Zervos is one of at least a dozen women who has accused Trump of sexual assault or rape. Zervos said Trump kissed and grabbed her back in 2007.
Trump denied the accusations from Zervos and the other women who came forward to accuse him of assault.
He called his accusers liars who were seeking "a little fame" and went as far as to claim they were not attractive enough for him to have assaulted.
"Believe me, she would not be my first choice," Trump said referring to Jessica Leeds, who accused Trump of groping her on an airplane three decades ago.
Zervos is currently suing Trump for defamation, saying in her lawsuit that he "used his national and international bully pulpit to make false factual statements to denigrate and verbally attack Ms. Zervos and the other women who publicly reported his sexual assaults in October 2016."
Trump has sought to dismiss the lawsuit, claiming that under the "Supremacy Clause" of the Constitution, he cannot be sued in state court.