The death toll in Puerto Rico is impossible to know. But it is expected to rise dramatically.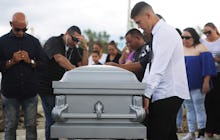 Welcome to Mic's daily read on Donald Trump's America. Want to receive this as a daily email in your inbox? Subscribe here.
Every day, we bring you a different dispatch on Trump's America. Today's focus: Puerto Rico's death toll.
Monday's dispatch: The growing death toll in Puerto Rico
It has been a month since Hurricane Maria's winds began to batter Puerto Rico. Rebuilding is still just beginning in the wake of the 10th-most-intense hurricane of all time. And it is already the costliest in Puerto Rico's history.
The level of devastation remains high. Only 13.7% of the island has power. That's making it more difficult to accurately judge the death toll, with officials relying on paper records instead of digitized personal information.
In fact, Vice contacted all of Puerto Rico's hospitals last week. Officials said "the morgues were filling up beyond capacity." The official death toll stands at 48 but is expected to rise substantially higher in coming days. Vox recently reported that at least 69 people are missing and 450 people have died of undetermined causes since the hurricane.
There's substantial disagreement about whether the federal government has adequately responded to an incredibly complicated disaster. Puerto Rico's delegate in Congress, Jennifer Gonzalez-Colon, said that President Donald Trump has provided everything her island has asked for. As of Saturday, the Federal Emergency Management Agency said it has provided more than $70 million to individuals and more than $347 million in emergency response funding.
But nurses said the administration is letting people die. ""These Puerto Ricans are being treated like they are disposable," a nurse told Newsweek. "It's been inhumane." Trump has been criticized for a lack of sensitivity to the problem. He said he met with the "president of the Virgin Islands," suggesting he did not know he is the leader of that U.S. territory.
The Senate will vote this week on a $36.5 billion disaster relief package largely to aid hurricane recovery efforts in Florida, Texas and Puerto Rico. That's on top of $15 billion approved last month. But the cost of hurricanes in those places combined is expected to be hundreds of billions of dollars. And Congress is showing little appetite to pay for anywhere near the full cost.
Texas and Florida, for example, with powerful leaders in Congress like Sens. John Cornyn (R-Texas), the GOP majority whip, and Marco Rubio (R-Fla.), pushed for more money in the current legislation. But conservatives in the House were not willing to back another $18 billion.
That leaves Puerto Rico — with the most long-term devastation and no voting congressional delegation — to wonder how much federal relief it will receive. And in the meantime, the death toll will likely continue to climb.
Today's question: Is the federal government doing enough in Puerto Rico? How are you getting your news about what's happening on the island?
Please email us your thoughts at trumpsamerica@mic.com.
This week in Trump's America:
The Senate is in session this week while the House is on a break. Republican senators are expected to pass a resolution key to advancing their tax reform legislation that would slash $1.5 trillion in federal revenue.
Senators will also grapple with Trump's decision to end payments to health insurance companies to keep them operating in expensive markets. A key voice in the debate, Sen. Susan Collins (R-Maine), said Sunday she was "very disappointed" in Trump's move because it hurts people insured now. They're also considering disaster relief.
Of note: Trump and Senate Majority Leader Mitch McConnell are having lunch on Monday, with Vice President Mike Pence as mediator. The two of them have not been getting along lately.
Secretary of State Rex Tillerson refused three times on Sunday to say whether he privately called Trump a "moron." Elsewhere on Sunday television, Ohio Gov. John Kasich kept up the speculation he'll run for president in 2020. Yet Steve Bannon is predicting Trump will win with 400 electoral votes that year.
LaToya Cantrell won the "jungle primary" in New Orleans' mayoral election on Saturday. The progressive candidate, backed by local and national grassroots groups, now heads to a runoff election. (Throwback to our story on progressives winning at the local level.)
After a letter from NFL commissioner Roger Goodell asked players to stand during the national anthem, most did — with some key exceptions. Mic tracked what happened during all of Sunday's games. The league did say it would not punish players for kneeling, as Dallas Cowboys Owner Jerry Jones said he would.
A Saturday night truck bombing in Mogadishu, Somalia, has left more than 270 people dead and more than 300 injured. It was the worst attack since the 1990s in the war-torn country.
BuzzFeed reported the Trump campaign has been subpoenaed for all documents about "any woman alleging Donald Trump touched her inappropriately."
ICYMI: Politico reported Friday that former White House Chief of Staff Reince Priebus was interviewed by special counsel Robert Mueller's team in the Trump-Russia investigation.
Mick Mulvaney, director of the Office of Management and Budget, told Politico the same day that Trump would shut down the government without border wall funding. By Sunday, it looked like Trump's decision to destabilize health insurance markets could also lead to a shutdown.
Mic's Emily Singer breaks down the 25th Amendment and how it could be what ultimately removes Trump from office.
Today's MicBite:
Mic's Jack Smith IV explains the beliefs and goals of the Nationalist Front — the leading neo-Nazi group in the U.S. Tap or click the video below to watch.
Corrections: Oct. 16, 2017