#MeToo: Viral social media campaign highlights just how many women have endured sexual assault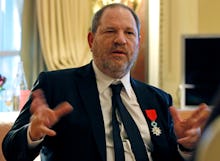 On Sunday, two words ricochetted across social media with alarming frequency: #MeToo.
The viral hashtag campaign, which sprang forth partially in response to the recent sexual assault and rape allegations leveled at disgraced Hollywood producer Harvey Weinstein, was employed by people who have faced some form of sexual harassment or sexual assault – mostly women, but also gender-nonconforming people and men.
Shared on Twitter by celebrities like Alyssa Milano and Rose McGowan, the latter of whom recently came forward to accuse Weinstein of rape, in addition to thousands of the site's non-famous users, the hashtag quickly went viral over the weekend.
"If all the women who have been sexually harassed or assaulted wrote 'Me too' as a status, we might give people a sense of the magnitude of the problem," the text shared alongside the hashtag read.
Despite its mass appeal, the campaign still received criticism from some who felt that the hashtag placed the burden too heavily on survivors to name themselves as victims instead of on men to speak out against the gendered violence happening within their ranks.
"I won't say 'Me Too,'" Wagatwe Sara Wanjuki, a feminist activist and social media campaigner at the Daily Kos, wrote in a Facebook post. "...because I know, deep down, it won't do anything. Men who need a certain threshold of survivors coming forward to 'get it' will never get it. Because the focus on victims and survivors — instead of their assailants and enablers — is something we need to change."
In the wake of the bombshell New York Times report that spurred an avalanche of sexual misconduct claims against Weinstein, women from all walks of life have been emboldened to share their own experiences with sexual assault.
After the initial report proved to be a watershed moment, actresses Gwyneth Paltrow, Angelina Jolie and Rosanna Arquette, among others, also came forward to the Times with fresh allegations against Weinstein. The New Yorker also published a months-long investigation by Ronan Farrow which included fresh accounts by 13 additional women, all of whom also said that they had been harassed, assaulted or raped by Weinstein.
In another instance, writer Anne T. Donahue asked on Twitter, "When did you meet YOUR Harvey Weinstein," a question which prompted hundreds of women to respond with their own stories of harassment experienced at the hands of men in positions of power.
The #MeToo campaign is more than just a sobering reminder of how prevalent sexual assault truly is; for the millions of people who have never come forward about their own experiences with sexual assault, it's a prescient reminder that they are not alone — and that there's safety in numbers.