A 'Sex and the City' scholar on Kim Cattrall's beef with 'SATC3' and who could possibly replace her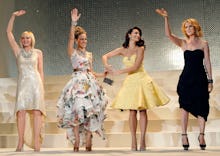 As one part of the two-part team behind the genius Instagram account @EveryOutfitOnSATC, which is painstakingly and gloriously recounting every outfit that's ever appeared on Sex and the City, Lauren Garroni has some opinions on Kim Cattrall's reluctance to do another Sex and the City movie.
Since September, Cattrall has been actively engaging with people on her Twitter, retweeting posts about who should play her since she doesn't want to be involved, whether or not she should be killed off (so she doesn't even have to think about being involved) and supporters who are general on #TeamSamantha.
Have the Sex and the City movies been good? Well, that's kind of beside the point. For Garroni and the @EveryOutfitOnSATC team, there should always be more SATC.
"As someone who has a satirical account about the fashions of Sex and the City, selfishly I would like to see this movie happen," Garroni said in an interview. "But in all seriousness, what other adult female franchise exists today? It would be a welcomed break from the male-dominated film landscape… with or without Samantha."
But who would play Sam, if Cattrall really refuses to be involved? She's openly rooting for a woman of color to step in, but Garroni has another idea as well.
"After Ryan Murphy suggested to replace Kim Cattrall, I jokingly said with who?!" rroni said. "Jessica Lange? But the more I think about it the more I think Jessica Lange as Samantha would be amazing. A chain-smoking, calling-Carrie-on-her-shit Samantha might be exactly what we need."
That's definitely valid, but what about Cattrall's character just getting totally killed off? Brutal, we know, but it'd make things a bit easier.
"As huge fans of The First Wives Club, we're not against just opening the film with Samantha's funeral," Garroni said. "Not rooting for Samantha Jones' demise, but it would be a forceful catalyst for the other three women to re-exaime their lives. And we'd really love to see Sarah Jessica Parker, Cynthia Nixon and Kristin Davis do a rendition of 'You Don't Own Me' in all white."
Now that's a scene for you.
As Cattrall continues to weigh in on the situation herself, it's hard to not take a side. Are you team Cattrall, thinking that producing another SATC movie is just reaching, or are you team everyone else?
"Call us Switzerland in this whole matter because we're Team Everyone," Garroni said. "It's fair that after nearly 20 years Kim Cattrall would be done with Sam Jones and ready for her Oprah's Next Chapter. It's also completely understandable that the other actresses would like a third bite at the apple considering the paltry amount of roles for women over 40."
The real winners in all of this, according to Garroni, is the fans. Why? "We've gotten to see the actors of Sex and the City sniping at each like they're trying out for the Real Housewives." It may not be a third movie, but at least it's gripping drama.