Trump reportedly made a joke about how Mike Pence wants to hang gay people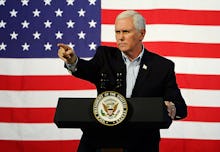 For queer people in America who are still fighting for equality, Vice President Mike Pence's dismal record on LGBTQ rights is no laughing matter. But for President Donald Trump, that record might have been the punchline of a gruesome joke.
According to sources who spoke to the New Yorker, the president once joked that, when it came to gay people in America, his vice president wanted to "hang them all."
"When the conversation turned to gay rights, Trump motioned toward Pence and joked, 'Don't ask that guy — he wants to hang them all!'" reporter Jane Mayer wrote in the New Yorker on Monday.
Here's the full excerpt from Mayer's missive:
"Trump thinks Pence is great," [former adviser] Steve Bannon told me. But, according to a longtime associate, Trump also likes to "let Pence know who's boss." A staff member from Trump's campaign recalls him mocking Pence's religiosity. He said that, when people met with Trump after stopping by Pence's office, Trump would ask them, "Did Mike make you pray?" Two sources also recalled Trump needling Pence about his views on abortion and homosexuality. During a meeting with a legal scholar, Trump belittled Pence's determination to overturn Roe v. Wade. The legal scholar had said that, if the Supreme Court did so, many states would likely legalize abortion on their own. "You see?" Trump asked Pence. "You've wasted all this time and energy on it, and it's not going to end abortion anyway." When the conversation turned to gay rights, Trump motioned toward Pence and joked, "Don't ask that guy — he wants to hang them all!"
While one hopes Trump's alleged joke isn't meant to be taken literally, it's likely a reference to Pence's hardline conservative stance on LGBTQ rights in the United States. In an article cataloguing how Pence has fought LGBTQ equality, at the vanguard of the religious right, for over a decade, Time noted that the vice president said marriage equality signaled "societal collapse" in 2006, voted against a bill protecting people from workplace discrimination on the basis of sexual orientation in 2007, opposed the repeal of the policy that prevented LGB people from serving openly in the United States military and opposed former President Barack Obama's guidance to allow trans students to use the bathroom that aligned with their gender identities in public schools.
A November Mic article noted that Pence suggested that the federal government should effectively divert funding from research on HIV/AIDS towards "conversion therapy," a thoroughly debunked pseudoscientific psychological treatment that suggests that homosexuals who undergo it can become heterosexuals.
The Human Rights Campaign, an LGBTQ rights advocacy group, argued that the practice can lead to "depression, anxiety, drug use, homelessness and suicide" in young people subjected to it.
Correction: Oct. 16, 2017