Ranking the best vegan burgers in New York City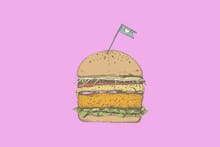 If there's such a thing as a "good vegan burger," chances are you can find it in New York. In a recent report, WalletHub dubbed New York City as 2017's best city for vegans and vegetarians. The Big Apple is ripe with farmers' markets for fresh produce and veggie-focused fast-casual spots. And the vegan options aren't isolated — plenty of creative meat-free dishes are served alongside conventional ones, making it easier to dine out with a group of varied dietary needs.
In 2017, New York has seen a proliferation of vegan burgers. But what makes a good one? Is it a taste that resembles meat, or a texture that holds up to the promise of a conventional beef patty? We here at Mic weren't exactly sure, so we sought out vegan offerings at five different chain restaurants to judge for ourselves. On this list, the Impossible Burger, the lab-engineered patty that's gained plenty of attention for being better for the planet while mimicking the texture of a beef burger, appears twice, albeit with different preparations.
But while this "bleeding burger" may be the current talk of the town, it's not the only option for vegans or anyone trying decrease their meat intake. Here's what we found on our quest for the best vegan burger in NYC, from least favorite to our number one.
Price: $15
Ingredients: Black bean patty, vegan mayo, pickled onion, salsa verde
What it looks like: The vegan burger arrived on a perfectly humble white oval diner plate that had lettuce tomato, pickle spear and a pile of fries. The rice-and-black bean patty wasn't very cohesive — it lacked a crispy sear on the outside and yielded mushy, messy bites. Bits of rice and beans would fall out of the burger with each bite. 
What it tastes like: It tasted like bad rice and beans smushed in between a toasted English muffin. While we were hopeful that the schmear of mayo on the top of the bun would add some excitement, the vegan mayo was unfortunately tasteless. The pickled onions were great but couldn't carry the dish. Our tester salvaged the burger by dousing it in hot sauce, all the while wistfully watching nearby patrons inhale Black Tap's award-winning Greg Norman burger — Wagyu beef doused in buttermilk dill and blue cheese. Vegan seems likes an afterthought at Black Tap.
4. The Classic Burger from By Chloe
Price: $9.95
Ingredients: Tempeh-lentil-chia-walnut patty, pickles, onion, beet ketchup, special sauce, potato bun
What it looks like: The burger patty looks like your typical grain-based patty. But the lettuce, onion, pickles and special sauce give it a fast food appearance.
What it tastes like: Despite claims on the restaurant's place mat, this is not the best burger in NYC — vegan or otherwise. The special sauce is similar to McDonald's, and upon first bite, the raw onions overwhelm the rest of the dish. While the vegetable toppings are crunchy and fresh, the patty itself is on the mushy side and has a slightly bitter aftertaste. The beet ketchup is a nice addition, and the chipotle aioli dipping sauce definitely helps to mask the bitterness. Given that the whole menu at By Chloe is vegan, this probably isn't the best dish to order here.
3. The Impossible Burger from Umami Burger
Price: $16
Ingredients: Two Impossible patties (made with wheat, potato protein, coconut oil and heme), plus caramelized onions, American cheese, miso mustard, house spread, dill pickle, tomato, lettuce. This burger is not technically vegan, as it's served with American cheese and a non-vegan house spread (our server compared it to Thousand Island), but it can be made vegan upon request.
What it looks like: This was one delicious-looking burger. It was served with the signature Impossible flag, and the double patties gave it height and heft. Plus, the patty really did resemble meat in both flavor and texture.
What it tastes like: Given the double decker patties here, this Impossible Burger was exceptionally filling. The patties were well-seasoned, and the texture felt right in terms of chewiness, though the "meat" did crumble when cut into. The burger lacked a crispy char, though the conventional meat burgers were also char-free — possibly an Umami Burger standard.
2. The Beyond Burger from BurgerFi
Price: $8.67
Ingredients: The actual Beyond Burger patty is made from pea protein, beets, coconut oil and potato starch. The order comes with diced onions, tomato, pickles, ketchup and mustard, and to make it vegan, customers can nix the American cheese and order it "green style" sandwiched between lettuce pieces.
What it looks like: The Beyond Meat patty resembles a classic veggie patty you might find in the freezer aisle of the supermarket, which makes sense, considering you can buy this patty (along with several other Beyond Meat products) in stores. BurgerFi's patty does come with some char marks, and it strongly resembles a fast food burger. The toppings are unexceptional and very standard, but offer what any backyard BBQ burger should.
What it tastes like: The patty tastes like a Boca Burger, though the ingredients are different, with a little more meatiness to it; however, it does not taste like beef. It's chewy in a good way, and it's not greasy or oily. When served on lettuce, this feels like a particularly healthy choice at a chain restaurant. If you're okay with supermarket-style veggie patties, you'll like this one.
1. The Impossible Burger from Bareburger
Price: $14.95
Ingredients: One Impossible patty (made with wheat, potato protein, coconut oil and heme), American cheese, little gem lettuce, stout onions, dill pickles and a special sauce on a brioche bun. The burger is not vegan from the start, but can be made vegan on request by swapping in vegan cheese and a whole wheat "sprout bun" and nixing the special sauce.
What it looks like: Bareburger's presentation is beautiful; both the vegan cheese and the patty resemble their animal-product counterparts, so much so that the decade-long vegetarian tasting the product felt wary of the first few bites. The "meat" was pink on the inside, and the onion and pickles added to the authentic burger feel.
What it tastes like: Despite the look of this dish, Bareburger's Impossible Burger doesn't taste quite like beef, though its texture certainly hints at it. The patty is softer than conventional meat, which leads to a bit of crumbling out of the bun and onto the plate. It also does not taste like a conventional veggie burger — it's a totally new flavor experience that could be tasty once you get used to it. The accoutrements were tasty and did help to disguise the unfamiliarity of the patty. In the end, Bareburger's Impossible Burger came out on top — it beat out Umami's for its terrific toppings, especially the you'd-never-know-it-was-vegan vegan cheese. Turns out, cheese makes everything better, whether it's from an animal or not.