Majid Jordan open up about their earliest influences and their new album 'The Space Between'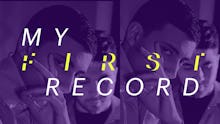 In My First Record, we ask some of our favorite musicians to reminisce about the first albums they ever bought, and the effect those records had on them growing up.
Majid Jordan — the Toronto-based singer-producer duo known for their smooth, R&B-pop beats and soulful vocals — is back with a new album. Dubbed The Space Between, the fast-approaching LP is set to drop Friday, via Drake's OVO label. It's the second full-length outing from Majid Al Maskati and Jordan Ullman, following their self-titled debut, which was released in 2016.
Fans have already gotten a sense of what to expect from the 13-track album thanks to some advance tracks, including "Phases," "One I Want," "My Imagination" and "Body Talk," but the pair remains fairly reticent on details surrounding the new effort. That's fine, though — we were happy to talk with Majid Jordan about some of their earliest influences.
In an email Q&A, Majid Jordan opened up about the first albums they ever bought, the impression those records left on them and some of the inspiration that went into the making of The Space Between.
Mic: What was the first record you ever bought? How old were you? Where did you buy it?
Majid Al Maskati: The first record I ever bought was for my dad. It was Carlos Santana, I think [laughs].
Jordan Ullman: The first CD I bought was by the Jimi Hendrix Experience. You remember his greatest hits album? I was playing that. I bought mine from Sam the Record Man. I was 6 years old in a Blue Jays denim jacket buying Jimi Hendrix and Pokémon cards.
MM: That's the coolest thing I've ever heard in my life. The store [I bought my album at] was called Euphoria. I was in Bahrain so we didn't really have records like Jimi's. The first records we would get would be pop compilation albums like Now That's What I Call Music 6 — [that's] probably the first thing I bought for myself. I was 7 or 8 years old in a France World Cup '98 T-shirt. I wore that shit until it got holes in it.
JU: Yeah, pop albums were the first albums I was listening to from my sister. Can we both make our albums Now 6?
How have your music tastes evolved since you bought those albums?
MM: More eclectic now. Like with Jimi, I learned about him later in life when I came to Canada. I got introduced to underground hip-hop out here. The university was all about hip-hop/R&B. I always loved house. That came from my uncle showing us these two-hour mixes from house producers. We've lived longer, so we've heard more.
JU: Yeah, I always want to discover new music.
When was the last time you listened to those albums?
JU: When I was, like, fucking 6. I'm probably gonna listen to it for the first time since I was 6 years old today for real.
MM: Back then, if I got money to buy an album, that was a good day. I was too young, I didn't any have money to go buying albums so that was the only thing I listened to.
JU: Yeah, like, your cousin comes over and tries to take the CD out, you're like, "Don't scratch it. That's my livelihood."
Did those albums influence the music you're making now?
JU: In some weird, human way, when you're 6 years old, anything that you do influences you when you get older. Kind of a crazy question, but yes.
MM: Yeah, it was at a very young age in life where things stick with you. It was fun music with no cussing on it and feel-good vibes.
Who are some artists you're listening to right now?
MM: There's so many that I don't want to leave anybody out. Look up artists from Toronto. That's who we want to rep right now. Go find them 'cause they exist and they're killing it.
JU: Music is amazing right now. It's been better than ever. I don't want to leave anybody out.
The title of your new album is The Space Between. What inspired that name?
MM: The story goes, right after I broke up with my [girlfriend], I went to Europe and reunited with an old friend from childhood. He was making music and had a regular job. He always loved music but I never knew he was making it.
We were trading demos and saying different ideas. He told me one thing where he was dreaming in the space between. I took it as his life of loving creating music but he has to do this job — a space between who you are and what you are really passionate about. For him, he was more speaking toward being in a relationship with a girl but not really being with her anymore and dreaming of that previous relationship.
So it's interesting looking at where we are and where we think we are. That idea never left me. I told J months later. It felt like how A Place Like This felt as a name.
JU: We had that phrase, it stuck around and it felt right. We made the album title before we made the music, in a certain sense. And the more we made our music, the more the album title made sense and it felt like a marriage between the name and the songs.
Do you have a favorite song on your new album?
MM: It changes. Today I'm loving "Gave Your Love Away."
JU: Yup, me too. It always changes.
Who were the major influences for The Space Between?
MM: Jordan.
JU: Majid. And the life that we live between these albums.