The new 'Black Panther' trailer is filled with moments of black empowerment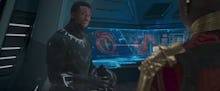 The second official Black Panther trailer is giving fans more reasons to anticipate Marvel's exploration of the world of Wakanda. The trailer, released Monday morning, deepened the sentiment that its Feb. 16 release date seems too far away.
The trailer is filled with unapologetically black moments. For instance, the Black Panther, played by Chadwick Boseman, is surrounded by black women of Wakanda who fill him with inspiring words on his journey as he seeks them for guidance. "You get to decide what kind of king you are going to be," Lupita N'yongo's character tells him. (You'll yaaass when Angela Bassett and Danai Gurira appear on screen, too.)
The trailer's soundtrack delivers a mashup of two black empowerment songs from past and present: rapper Vince Staples' politically driven "BagBak" and the late Gil Scott Heron's widely quoted "The Revolution Will Not Be Televised" spoken word poem.
So far the film seems to be living up to its hype and is proving to be a moment of empowerment for black cinephiles, based on the reactions to the trailer below.
The Ryan Coogler-directed Black Panther will be a historic cultural moment: There has not been a Marvel black superhero story portrayed on the big screen since the Blade trilogy, which started in 1998.
For those who can't get enough, here is a look at how African art and culture inspires the latest film and also a deeper look at what to expect from the forthcoming Black Panther.
Boseman also shared the official movie poster.