Donald Trump: "There is no such thing as Obamacare anymore"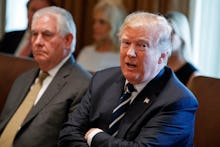 President Donald Trump on Monday said the Affordable Care Act — known colloquially as Obamacare — no longer exists, and admitted his move to axe subsidy payments under the ACA was intended to implode the landmark health care law and force Congress to come together to make a new plan.
"Obamacare is finished. It's dead. It's gone," Trump said Monday during a Cabinet meeting. "You shouldn't even mention it. It's gone. There is no such thing as Obamacare anymore."
Trump was commenting on his decision to end "cost-sharing reduction" payments, or subsidies that help lower the cost of insurance premiums for low-income Americans.
In an attempt to rationalize his decision, Trump said CSRs were a bailout for insurance companies, calling the payments a "gravy train" for the insurance industry.
However, the money went toward lowering health care premiums for about 6 million Americans — nearly 70% of whom live in states Trump won in the 2016 presidential election, according to the Associated Press.
Insurance companies and other top medical associations have said Trump's decision to cut CSRs is what has made health care premiums rise.
Still, Trump defended his move, suggesting his decision will force bipartisan compromise to replace the ACA.
"In my opinion, what's happening is that as we meet, Republicans are meeting with Democrats because of what I did with the CSRs because I cut off the gravy train," Trump said during the Cabinet meeting. "If I didn't cut off the CSRs, they wouldn't be meeting. They'd be enjoying lunch by themselves."
A bipartisan group of senators had already been working on a plan to try and stop rising insurance costs.
Some Congressional Republicans worry Trump's decision to end the payments will have a negative blowback on the GOP in the 2018 midterm elections.
"I think the president is ill-advised to take this course of action because we, at the end of the day, will own this," Rep. Charlie Dent (R-Pa.), who is retiring at the end of his term in 2018, said on CNN. "We, the Republican Party, will own this."