"Chelsea bomber" Ahmad Khan Rahimi convicted of 8 charges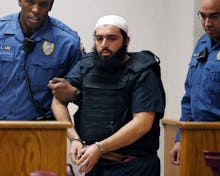 Ahmad Khan Rahimi, the man accused of setting off homemade bombs in New Jersey and New York in September 2016, was convicted by a jury on eight federal charges he faced on Monday.
Just over a year after twin pressure-cooker bombs exploded in the streets of New York City's Chelsea neighborhood, sending bits of shrapnel raining down and wounding 30 people in the process, Rahimi's two week-long trial ended in guilty verdicts on eight charges, which included "the use and attempted use of a weapon of mass destruction, bombing a public place, destroying property by means of fire or explosives, and using a destructive device in furtherance of a crime of violence," according to CNN.
According to a statement from acting United States Attorney for the Southern District of New York Joon H. Kim, Rahimi now faces a mandatory sentence of life in prison.
On the morning of Sept. 17, 2016, prosecutors said that Rahimi awoke before dawn and headed to Seaside Heights, New Jersey, where he stowed a first pipe bomb along the route of a Marine Corps charity race. The bomb exploded with no injuries, and the race, which had been delayed, was eventually cancelled outright.
Later the same day, surveillance footage captured Rahimi lugging more homemade bombs stashed in suitcases through the streets of Manhattan, where one would eventually detonate on 23rd Street in the Chelsea. The other bomb, planted on 27th Street, never went off.
Despite his unassuming New Jersey roots — Rahimi's family ran a fried chicken restaurant in Newark, New Jersey, and he had attended high school in Edison, New Jersey — prosecutors said that he had considered himself "a soldier in a holy war against Americans" and had drawn inspiration for the attacks from the Islamic State and al-Qaida terror groups.
"Last September, Rahimi set out to harm innocent people who were simply living their lives one Saturday evening," FBI Assistant Director William F. Sweeney Jr. said in a statement, according to CNN. "He underestimated the resilience of New Yorkers as well as the resolution of the FBI's Joint Terrorism Task Force to see justice served."