Trump claims past presidents didn't call parents of fallen soldiers. That's 100% false.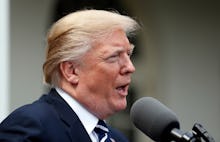 Monday President Donald Trump said he will soon call the families of four U.S. soldiers who were killed in Niger 12 days ago and falsely claimed it's something his predecessors, specifically former President Barack Obama, didn't do.
Trump made the false claim in response to a question from a reporter about why he hasn't yet commented on the attack that led to the soldiers' deaths.
"I've written them personal letters; they've been sent or they're going out tonight," Trump said in response to a question on the soldiers' deaths, which was asked at a hastily scheduled news conference in the White House Rose Garden.
"I will at some point during the period of time call the parents and the families because I have done that traditionally," Trump continued, adding that those calls are "by far the toughest" he has to make.
"So the traditional way, if you look at President Obama and other presidents, most of them didn't make calls. A lot of them didn't make calls. I like to call when it's appropriate," Trump said.
That claim is not true.
Obama did call — as well as meet with and write letters to — families of fallen soldiers during his eight years in office.
Former President George W. Bush also spent hundreds of hours meeting with families of fallen troops.
Trump ultimately walked back his claim slightly, after being pressed by NBC's Peter Alexander, saying he was actually unsure whether Obama didn't call families of fallen soldiers.
But not before Alyssa Mastromonaco, a former Obama White House aide, sent a fiery tweet calling out Trump's false statement.
"That's a fucking lie," Mastromonaco tweeted of Trump's claim. "To say President Obama (or past presidents) didn't call the families members of soldiers KIA — he's a deranged animal."