Meet the travel addict behind Scott's Cheap Flights, who's helping others score dirt-cheap deals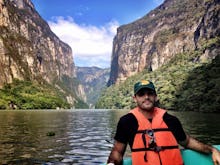 It started with a $130 flight to Milan.
In 2013, Scott Keyes was a cash-strapped college graduate living in Washington D.C. and working as a journalist for the news site Think Progress. While browsing flights on a Friday night, he spotted the jaw-droppingly cheap flight: a nonstop from New York City to Milan for $130. The Italian city wasn't on his travel bucket list, but the price was right. On that trip, Keyes hiked Cinque Terre, caught a soccer game and went skiing in the Alps. Afterward, word started to spread about his affordable Euro trip.
"All my friends and coworkers started coming up to me saying, 'Hey Scott, how did you get that?'" Keyes said in an interview. Soon after, he started a listserv so he could email out deals to friends, friends of friends and, later, complete strangers who wanted a heads-up on the ultra-cheap deals.
Thus began Scott's Cheap Flights, a free newsletter that sends ridiculously affordable international flights — think $400 flights to Europe, Japan or Thailand — to just under a million subscribers each day. (Premium subscribers pay $39 a year to get text messages about exclusive deals before other subscribers, and other perks.)
What started as a side project has grown into a lucrative business that never needed venture capital funding. He now employs over 15 people, and he's planning new products to get deals to his subscribers as quickly as possible.
Keyes prioritizes quality over quantity when it comes to deals. He likes to evoke a "wow factor" instead of flights that are a mere $50 to $100 less expensive than regular fares.
"If all of a sudden, [subscribers] see that same flight and it's $400 or even less, it's got that 'Holy crap, I could actually do that — bring my wife, bring my boyfriend and get there for less,'" Keyes said.
Most of his deals are "mistake fares" that last just a few days — or even a few hours — until an airline sees the error. Keyes noted that his Milan flight may have been a "fat-finger discount," meaning they meant to list the fare as $1,300 but forgot to add the last zero. Another reason might be a miscommunication between airlines or a "massive overnight currency devaluation," like when the British pound plummeted after the Brexit vote.
"I never really anticipated that I would be spending 10, 12, 14 hours a day on Google Flights and Momondo. And yet this is my life," Keyes said with a laugh. "It's like waking up and knowing there's a treasure hunt."
He's pioneered the art of monitoring flights — and his sharing spirit is empowering people to explore the world.
Mic caught up with the traveling entrepreneur and asked him to clear up myths surrounding cheap airfare. Below, he shares the most common misconceptions about finding affordable flights and his secrets to success.
Tuesday is not the best day to book flights
"The legend that Tuesdays are the best days to book? Wrong!" Keyes said. "Today airfares are changing not only by the hour; they're changing by the minute, [and even] by the second sometimes."
According to Keyes, the Tuesday advice was once rooted in truth: Around 10 years ago, "airlines would load their fares for the entire week up at one point, and it would actually be Tuesday at 1 p.m.," he said. But that's no longer the case.
What to do instead: "Honestly, anytime can be a good time to book cheap flights. You don't need to book it at any specific time of the week," Keyes noted.
While most people pick where they want to go, when they want to go and then check out flights, Keyes flips this method on its head. "I think about price first," he said, explaining he tries to be extremely flexible when it comes to dates and places. And an unlimited travel bucket list means everything's on the table: "There's nowhere in the world that I don't want to see," he said.
Using an incognito browser won't help you get cheaper fare
Another persistent myth is the idea that airlines have data on consumers and give them dynamic pricing that can be avoided by booking through an incognito browser.
"A couple years ago, someone [on Reddit] offered a $10,000 reward if someone could take a video of themselves [getting a cheaper flight by using an anonymous browser] and nobody could do it. That prize is still unclaimed," Keyes said.
What to do instead: If you're truly looking for the best possible deal, Keyes mentioned one sneaky trick: booking through another country's web portal. He gave one example:
"There's a new budget airline, a transatlantic called Norwegian Air. If you're booking a flight right now from New York to Oslo, that fare might cost around $350. ... If you were to book that exact flight but do it on the Norwegian version of the site and pay in Norwegian krone rather than U.S. dollars, that flight is actually going to cost closer to $250.
Again, you're not starting in Oslo — you're still starting in New York, you're still flying to Norway — exact same flight as before. but by paying in Norwegian krone and booking through the Norwegian site, you're actually saving $100 or so."
Budget airlines have sneaky fine print
Yes, it's possible for a deal to be too good to be true. Keyes said that some air carriers will hit consumers with carry-on baggage fees, which might be more expensive than the flight itself.
Wow Air's one-way $99 airfares to Europe are a prime example. "These [bag fees] are $70 each way. It's also each leg, and all of its flights connect through Reykjavik, Iceland," Keyes noted. "So, if you're going to Amsterdam, you might pay $250 for that ticket, but you're paying $280 on top of that for your bag. So all of a sudden it's over $500!"
What to do instead: If you really want to avoid bag fees, don't bring a bag or make sure yours are under the weight limit.
"I'll be that guy, wearing three jackets to make sure that my bag is under the weight limit to get on the plane," Keyes said. "Sometimes you have to pull those types of tricks, just to be able to get there without paying an extra $50 in bag fees."