Mic Wakeup: A hashtag, a trailer and a horrifying joke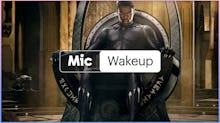 It's Tuesday, Oct. 16, 2017. The sun is shining. The birds are singing. You have to be at work in an hour. Here are the three stories you need to start your day.
#MeToo
It's difficult to pinpoint where, exactly, this hashtag started — but if you've been on the internet in the last 48 hours, chances are you've seen it. People who have been sexually harassed or assaulted are making their presence known by posting #MeToo to their Twitters and Facebooks — and encouraging others to do the same.
The goal of the hashtag, according to a screenshot in a tweet from actress Alyssa Milano, is to "give people a sense of the magnitude of the problem" of society's rape culture. Though the hashtag was initially aimed at encouraging women to participate, it has since broadened to include everyone.
The hashtag campaign comes amid the surfacing of accusations of sexual harassment, assault and rape against Hollywood producer Harvey Weinstein, who was ousted from his company in disgrace following the publication of a bombshell story on his alleged behavior in the New York Times.
Though the hashtag means well, some have criticized its execution for how it burdens victims and survivors rather than the people accountable for their pain. Mic's Brianna Provenzano lays it all out nicely here.
Black Panther is going to change the game
It was one of Marvel's most ambitious, groundbreaking titles — and now it's coming to a theater near you.
Black Panther is the superhero series charting the adventures of T'Challa, the warrior king of a fictional African nation of Wakanda.
Mic's Zak Cheney-Rice explained the film's artistic and cultural roots in a must-read post when the teaser trailer first aired in the summer of 2017. On Monday, after the first official trailer for the upcoming film was released, Mic's Natelegé Whaley showed us all how the two-minute trailer was filled to the brim with moments of black empowerment. Check it out.
Trump reportedly makes a horrifying joke
Sources told the New Yorker that President Donald Trump made a joke about how Vice President Mike Pence wants to execute LGBTQ people. Why? If it's true, we think it's the president's way of attempting to make light of Pence's abysmal record on the matter of LGBTQ equality, but honestly who knows at this point.