This stat forecasts doomsday for Congressional Republicans in the 2018 midterm elections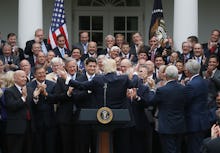 Congressional Republicans could be in for punishing losses in the 2018 midterm elections, so long as this key poll numbers holds steady.
A CNN poll published Tuesday found Democrats with a 14-point lead on the generic congressional ballot — a statistic election analysts use to forecast the number of seats a party will win in congressional elections.
That means that if the election were held today, voters would pick the generic Democrat running in their district over a generic Republican by a margin of 51% to 37%.
If that number holds, election forecasters say Republicans could see double-digit losses in the number of House seats they hold in the 2018 midterm elections — losing their current House majority and further imperiling President Donald Trump's agenda.
That generic ballot number CNN's poll found is virtually identical to the final generic ballot spread back in 2006, the last midterm election year in which Republicans held the White House and both chambers of Congress.
Democrats led the generic ballot 54% to 39% in early November of 2006, according to CNN's poll, and President George W. Bush had a 38.5% approval rating, according to the RealClearPolitics average.
That year, Democrats went on to pick up 30 House seats, winning control of the House for the first time in 12 years.
Current congressional ballot numbers and President Donald Trump's approval rating looks eerily similar to those 2006 numbers.
Trump currently has a 38.6% approval rating, according to the RealClearPolitics average.
In 2018, Democrats need to pick up 24 seats to win control of the House.
And Republican leaders are reportedly warning Trump that losing the House could be catastrophic — possibly leading to Trump's impeachment.
Senate Majority Leader Mitch McConnell had lunch with Trump on Monday to raise these concerns, warning him that attacks on congressional Republicans could hamper his agenda, according to a report from the Washington Examiner.
After that lunch, Trump held an impromptu joint news conference with McConnell to declare their relationship is good, and that Trump would encourage members of his party not to wage divisive primaries against sitting GOP lawmakers.