Kaepernick to reportedly focus on Trump in collusion case against NFL. Will it work?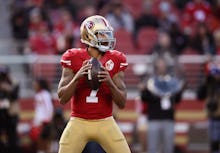 Colin Kaepernick will cite the influence of President Donald Trump in his collusion case against NFL owners, CBS reported late Monday.
The ex-San Francisco 49er quarterback — who has been unemployed since the end of the 2016 season — "may focus on the tweets and other communications of the president" rather than coordination between team owners, a source familiar with the grievance told the outlet.
Kaepernick's attorney announced Sunday that the free agent quarterback had filed a grievance "after pursuing every possible avenue with all NFL teams and their executives."
"If the NFL (as well as all professional sports leagues) is to remain a meritocracy, then principled and peaceful protest — which the owners themselves made great theater imitating weeks ago — should not be punished and athletes should not be denied employment based on partisan political provocation by the Executive Branch of our government," Kaepernick's attorney, Mark Geragos, said in a statement posted to Twitter Sunday.
Kaepernick made headlines last season when he protested racial injustice and police brutality during the pre-game national anthem.
Trump railed against him during the 2016 campaign and in the spring of 2017 took credit for his ongoing free agency.
"There was an article today, it was reported that NFL owners don't want to pick him up because they don't want to get a nasty tweet from Donald Trump," the president said at a campaign-style rally in March. "You believe that?"
Trump has continued to attack kneeling football players, kicking off a new round of culture wars with the NFL in September by telling an Alabama crowd that "son of a bitch" protesting players should be "fired."
The NFL condemned Trump's "divisive" comments and several owners knelt or locked arms with their players in a performative display of "unity."
Meanwhile, Kaepernick has remained a free agent — even as teams award contracts to demonstrably worse quarterbacks in his place.
After Tennessee Titans quarterback Marcus Mariota was injured in a game against the Jacksonville Jaguars in September, the team signed 34-year-old Brandon Weeden, who has not appeared in a game since 2015, to a one-year contract — a move that reportedly led Kaepernick to file his grievance.
Can Kaepernick's legal strategy work?
Michael H. LeRoy, a professor at the University of Illinois School of Labor and Employment Relations who has written extensively about sports law, said in an email that the case will boil down to Kaepernick proving that "two or more teams colluded not to hire him."
That means it'll likely take more than just Trump's comments to make Kap's strategy work.
"While it seems possible, even probable, that some teams have spoken openly against players who kneel, proving up this grievance will take more than that type of evidence," LeRoy said.
Meanwhile, the free agent's name has once again been floated as a possibility for a potential job.
Green Bay Packers star Aaron Rodgers — who has previously said Kap should "be on a roster right now [but] because of his protests, he's not" — suffered a broken collarbone on Sunday in what could be a season-ending injury, leading some to call for the team to sign Kaepernick, who last year posted a solid 90.7 passer rating.
But that doesn't seem like it will happen.
"As far as the quarterback position, Brett Hundley is my quarterback, Joe Callahan is the backup," Green Bay coach Mike McCarthy told reporters Sunday. "That's the direction we're going."
Asked if he would consider bringing Kaepernick on, McCarthy became visibly annoyed.
"Did you just listen to that question I just answered?" McCarthy said to a reporter. "I got three years invested in Brett Hundley, two years invested in Joe Callahan — the quarterback room is exactly where it needs to be."