Donald Trump said Obamacare is "finished." For millions of people, it's not that simple.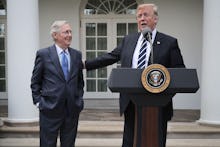 Welcome to Mic's daily read on Donald Trump's America. Want to receive this as a daily email in your inbox? Subscribe here.
Every day, we bring you a different dispatch on Trump's America. Today's focus: Obamacare.
Tuesday's dispatch: Why ending subsidies does not end Obamacare
On Monday, President Donald Trump said publicly what many people already believed: He stopped paying subsidies to health insurance companies to kill a key element of the Affordable Care Act.
"Obamacare is finished," Trump said Monday. "It's finished. It's gone. ... There is no such thing as Obamacare anymore."
The problem for Trump: for millions of Americans, the ACA is all there is.
Trump blasted subsidies paid to insurance companies as "bailouts" on the individual health insurance market. Those policies only cover about 10 million Americans, as most people have health insurance through their employer, parents or the government. The individual market requires people to pay out of pocket for health insurance through a state or federal marketplace, like Healthcare.gov.
But in hundreds of counties, the federal payments are the only thing keeping health insurers operating in the individual health insurance market. Over the summer, the Centers for Medicare and Medicaid Services said over 40% of counties would have only one insurer next year.
Many of those counties are rural and have small populations. That gives insurers a small base of prospective customers, making it difficult for one insurer to operate — let alone compete with other companies. That leads to high prices for consumers, which drives people away from buying insurance, resulting in even higher prices.
Federal "cost-sharing subsidies" were supposed to make up the difference. These payments to health insurers were designed to keep prices reasonable for consumers and profitable for insurers. More than half of Americans on the individual market received an average subsidy of $1,000 this year — 22% of the average annual premium.
Not only will Trump's move likely increase insurance premiums by as much as 20% next year, it will actually cost the federal government money in the long-term if the ACA remains in place. Ending subsidies drew an unusual showing of unity from a host of health care groups, many of which signed a letter to Congress asking for the reinstatement of the subsidies.
Trump might say he's killed the ACA. But the problems associated with sabotaging the law — especially without the passage of a "repeal and replace" bill — are only just becoming clear.
Today's question: Do you buy health insurance through the individual market? Do subsidies help you afford the cost?
Please send us your thoughts at trumpsamerica@mic.com.
Tuesday in Trump's America:
In a press conference on Monday, Trump claimed that past presidents, including Barack Obama, did not call the families of fallen U.S. soldiers. That is 100% false. Both Trump and the White House later walked back the claim.
Trump also said he would declare a national emergency on opioids next week — more than two months after he said he had done so." Trump tweeted that Rep. Tom Marino (R-Pa.) has withdrawn from consideration to be the nation's drug czar after a Washington Post/60 Minutes report found Marino weakened laws that target drug companies.
Trump made the comments while appearing alongside Senate Majority Leader Mitch McConnell (R-Ky.). The press conference came after Trump and McConnell ate lunch in a show of unity following reports they loathe each other.
It's worth noting Trump blasted Republican senators on Monday. "I'm not going to blame myself, I'll be honest. They are not getting the job done," he said of GOP senators. And House Majority Leader Kevin McCarthy (R-Calif.), speaking in Indiana, joined in. "If you're not strong enough to say you're going to repeal Obamacare and then vote that way, you don't deserve to stay in the office," he said.
Two CNN polls: Approval of Trump's handling of hurricanes drops 20 percentage points in wake of Puerto Rico recovery. And on a generic ballot, Democrats beat Republicans by 16 points in next year's midterm elections.
U.S.-backed Kurdish and Syrian fighters said Tuesday they have liberated Raqqa from the Islamic State. The city served as the defacto capital of ISIS since 2014. The group has lost major ground in the past year and now holds an area of Iraq and Syria greatly diminished in size.
A day into what will be a fierce primary battle, the progressive challenger to Sen. Dianne Feinstein (D-Calif.) celebrated a law waiving community college fees.
The University of Florida is preparing for violence ahead of a planned speech by white nationalist Richard Spencer. And in a speech at the National Constitution Center in Philadelphia on Monday, Sen. John McCain (R-Ariz.) denounced such "spurious nationalism."
What to know about the "#MeToo" campaign on social media, sparked by actress Alyssa Milano.
According to the New Yorker, Trump once joked that Vice President Mike Pence wants to hang gay people. "The Danger of President Pence" story is worth a read.
Sen. Thad Cochran (R-Miss.), 79, will remain in his home state as he recovers from a urinary tract infection, his office said on Monday.
Smoke from wildfires in northern California has traveled 550 miles. Here's what that can mean for your health.
Today's MicBite:
The Senate is voting this week on whether to continue funding to the National Endowment for the Arts. These artists told Mic why they want the Senate to maintain funding to the NEA. Tap or click the video below to watch.