'Sex and the City' Halloween costume ideas that aren't Carrie, Samantha, Miranda or Charlotte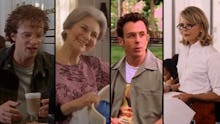 Sex and the City, despite having ended 2004, is still providing us with some of the most iconic and honestly quality Halloween costume ideas. Miranda in those overalls and puffy jacket, looking like a Super Mario Bros character.
Samantha fresh off a chemical peel.
Carrie in that damn tutu.
Charlotte as a drag king, complete with a sock.
Who'd have thought one show would be able to give us all Halloween costume ideas for what feels like a millennia? But here we are. More than 10 years after its end, and the show's influence lives on.
But rather than tell you about the many funny options you have if you wanna dress up as Miranda, Samantha, Carrie or Charlotte, we thought we'd put our own spin on things.
How about dressing up like a SATC character that's not these four women? The show was on for six whole seasons, and with many terrible boyfriends and deliciously vicious women to choose from — why not shake things up a bit?
In order to source some ideas, we went to one of the leading voices of SATC commentary right now: one of the founders of @EveryOutfitOnSATC, the Instagram account dedicated to hilariously recounting the show's best looks.
Be the Aidan to their Carrie
Let's start with a few couple ideas. While your beau might want to dress up as Carrie, why not be similarly inspired by SATC and dress up as Carrie's furniture-making, bad-dog-having, turquoise-loving boyfriend, Aidan?
"Go as SATC's most derided (if you follow our account) or beloved (if you believe our followers) couple," Lauren Garroni, the co-founder of @EveryOutfitOnSATC, said. "It's easy to dress your significant other up as Aidan — just grab a clashing patterned or denim shirt, pair with leather pants, and tons of turquoise jewelry. And with Carrie… you know what to do."
Be the Steve to their Miranda
On the flip side of that, if your friend wants to dress up as Miranda (and who wouldn't?) why not be Steve?
"Throw on your best business casual look to emulate everyone's favorite TV lawyer Miranda Hobbes," Garroni said. "And not only will your partner have all the needed elements to be Steve (t-shirt, hoodie, jeans,), slap on a pair of wire rim glasses and suddenly he's the rapper Logic."
Garroni isn't wrong.
Be the Magda to their Miranda
If we're being real, if our beau or our best friend was going as Miranda, dressing up as Magda would be too hard to pass up.
To achieve this look, sweep up that hair, slip into a loose top and cardigan, and maybe, if you feel like being creative, hold onto a basket of laundry all night. Your arms will be exhausted but it's worth it.
Practice your best Ukranian accent and we're sure people will get it.
Be the show's iconic 'Vogue' editor
Now let's get to some truly obscure — but still legendary — SATC characters. First up: Carrie's understandably harsh Vogue editor, Enid Frick, played by the great Candice Bergen.
Enid was the one on the show who said things like, "Forty is the last age a woman can be photographed in a wedding dress without the unintended Diane Arbus subtext," and called one of Carrie's friends "a hobbit." So, she's working through some stuff.
"If Anna Wintour is too on the nose, try dressing up as Carrie's Vogue Editor Enid by pairing a tasteful cashmere sweater with a leather skirt," Garroni advised. "But how will people know you're Carrie's editor? Tell your friend she knows nothing about bags or men, while marking up an article in red."
Easy enough!
Be (one of) the show's most lovably pathetic men
Oh Skipper. We hardly knew ye.
Skipper was the geeky but still very loving friend of Carrie's and boyfriend of Miranda's for a very short time on the show, popping up in seven episodes total, including the premiere. With super-curly hair and wire-rimmed glasses, you can achieve his look by wearing your most normcore outfit or recreating an outfit your seventh grade crush wore.
"If you have a leftover 'Where's Waldo' costume you can recycle it to cosplay as this obscure season one character," Garroni said.
That works too.