The iPhone X release is weeks away — but Apple's new device is already appearing in the wild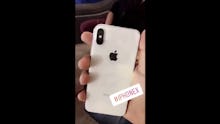 The iPhone X release date isn't until Nov. 3 and pre-orders start Oct. 27. But sightings of the device are suddenly all over social media.
Photos and videos suggest Apple employees and a few select people already own the device. Footage allegedly showing the iPhone X in action — with previously unknown aspects of the device, like new dynamic wallpaper — has also gone viral on Reddit and YouTube.
We've rounded up the best footage of the iPhone X so far. Take it with a grain of salt: While much of it is impossible to verify, we can still have fun geeking out.
Alleged footage of the iPhone X
This iPhone X was seen in the wild and posted to Instagram (shown below on JBey4you's YouTube channel). Here we see what appears to be a wallpaper unavailable on other iPhone units.
These three photos also come to us from an Instagram story post. Reddit user anonymousdave52 brings us the goods.
This iPhone X was also allegedly spotted in San Francisco by Reddit user ssrij. Here's what they saw.
The crown prince of Dubai, Sheikh Hamdan bin Mohammed bin Rashid Al Maktoum, has something that looks like an iPhone X too. He posted it to his Instagram story, seen here on Facebook. Check it out below.
Another iPhone X may have been seen at an airport from afar. The full video is here.
Redditor EddiOS42 brings us another look at something that might be the iPhone X, this time with Pokémon Go onscreen. The full image is here. A user called anonymousdave52 brings us a closeup, shown below.
And the most famous sighting of the iPhone X yet: the one sliding out of Apple CEO Tim Cook's pocket. (As cool as that sleek new body looks, consider a case if you want it to last longer.)