The Erdem x H&M campaign is beautiful, diverse, and the clothes are pretty damn good, too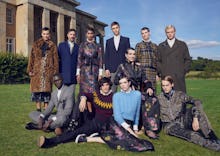 There's a pretty good chance that right up until this moment, you didn't even know that the British label Erdem was doing a collaboration with H&M. Erdem, which is based in London and has Canadian and Turkish designer Erdem Moralioglu at the helm, isn't exactly a household name like H&M's former collab partners Kenzo or Balmain or even Alexander McQueen.
But that doesn't mean you shouldn't be super excited about this collaboration, and we're saying this now, particularly after seeing the campaign and lookbook images.
Shot by renowned photog Michal Pudelka, the images are striking, with models posing in what looks like family portraits in a studio and across flower fields and grass on a country estate.
They're a bit haunting, a bit Diane Arbus-esque and feel notably high fashion, which makes you forget that this is a campaign for clothes you'll be able to buy at H&M.
Because of that, we love it.
"We thought it would be great to do a modern take on classical family portraits, creating characters in Erdem's world," Pudelka said in a press release. "The Erdem x H&M collection really spoke to me, and the working process felt authentic and creatively charged."
In typical H&M's fashion, the models it chose for this campaign are a diverse bunch in race and age, with models like like Imaan Hammam, Saskia de Brauw, Grace Hartzel, Fernando Cabral, Neels Visser and Tony Ward, posing alongside actors Ruby Dagnall, Tom Rhys Harries, Hero Fiennes-Tiffin and Harriet Walter, who's 67.
In addition to this print campaign, dreamy director Baz Luhrmann has directed a short film for this collab, so the cinematic feel of these images makes sense.
As for the clothes themselves, we have to say that they look extraordinarily chic, modern and youthful. There's embroidered flowers on thick fabric, bright cozy sweaters, frilly dresses, leather shoes and lust-worthy floral suits.
And while Erdem's clothes typically go for thousands upon thousands, the most expensive pieces in this H&M collab top out at $299.
With the collection debuting online and in stores Nov. 2, you can bet we'll keep an eye on it.