After Anne Frank costumes appear on Halloween websites, outrage ensues — and a bizarre explanation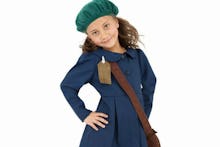 Halloween costumes like pregnant Kylie Jenner and sexy Melania Trump are one thing. But this? This is another.
Outrage began after an Anne Frank costume appeared on the online retailer HalloweenCostumes.com.
Literally called a "Anne Frank girls costume" on the site, the description, which began "We can always learn from the struggles of history!" read: "Now, your child can play the role of a World War II hero with this girls World War II costume. It comes with a blue button-up dress, reminiscent of the kind of clothing that might be worn by a young girl during WWII."
Subtle.
A rep from HalloweenCostumes.com quickly weighed in, and said that despite its name, HalloweenCostumes.com does not just sell Halloween costumes.
"We offer several types of historically accurate costumes — from prominent figures to political figures, to television characters," Ross Walker Smith, who handles PR for the company, wrote on Twitter. "We have passed along the feedback regarding this costume, and it has been removed from the website at this time."
In a more official statement, the company apologized for the costume itself. "We would like to apologize for any offense this has caused," the statement read. "We have elected to stop selling this costume immediately. Again, we apologize for this mistake in judgement."
Indeed, it's nowhere to be found on the site anymore, but don't think HalloweenCostumes.com was alone in stocking this particular outfit. According to Time, places like Walmart.com had it, and quickly pulled it amidst outrage. And still, on sites like Amazon, the costume created by the company Smiffy's lives on, but with a different name: "World War II Evacuee Girl Costume."
Subtle, yet again.
It appears with that same title on the Smiffy's site, too.
"This girls fancy dress costume includes a dress, hat and bag," the description reads. "You'll look like a real-life evacuee!"
We can't think of a worse time — with Nazi rallies and white supremacists rising in power — for a costume like this to appear.
Mic has reached out to Smiffy's for further comment.