Google Pixel 2: 6 features of the new Google phone that travelers need to know about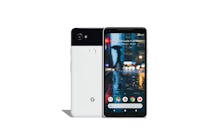 Google announced its Pixel 2 phones on Oct. 4, and both are available for pre-sale today. As an avid user of the original Pixel for the past six months, I was eager to try out a review unit, which was provided to Mic, to see how the travel-friendliness has improved on the Pixel. The phone is available in two sizes — the five-inch Pixel 2, which starts at $649, and the six-inch Pixel 2 XL, which starts at $849. While most of these features focus on the Pixel's strong suit — its camera — a few other additions make the new smartphone a strong travel companion. (Editor's note: The author of this story owns stock in Alphabet, Google's parent company.)
1. A better camera for portraits and dim lighting
The original Pixel excelled at taking photos, particularly in low-light situations. The camera on the Pixel 2 comes with a group of new features, including improved visual stabilization for moving subjects and portrait mode for artistic shots of people and objects. Notably, the camera functionality is identical on both sizes, so you'll get the same image quality on the two phones. The phones also come with free unlimited storage from Google Photos, meaning that photos will back up automatically at the original resolution — no more worrying about running out of storage space or having to connect your phone to your laptop.
2. Faster camera access for quick shots
When I'm on the road, I'm constantly fidgeting with my camera to get it to turn on in time to capture a fleeting moment. A new feature allows for incredibly fast camera access, with two pushes of the power button. There's also a new gesture for accessing selfie mode. Twisting your wrist twice while holding the phone will switch from the back-facing camera to the front-facing one (and vice-versa).
3. A new function for landmark recognition
Google Lens, a new function accessed through Google photos, provides contextual information about buildings, landmarks and even food dishes. In theory, when you're zooming down the city streets in a cab and want to know more about a landmark, take a photo and the Google Lens will provide information based on image data on Google's servers. In early testing, the function worked best with landmarks, including the Rouen Cathedral and Seville's Plaza de España, but less so with food dishes. As of publication time, the feature still has bugs to work out (The New York Times reported that it mistook a photo of the Flatiron Building in New York for the Empire State Building).
4. The ability to scan printed text
This same Google Lens function allows you to scan posters of interesting events to set reminders or copy and paste URLs. You can also photograph menus and business cards to add them to your contacts — one less thing to carry home after a business trip.
5. Easier access to your Google Assistant
Squeezing the side of the phone — a new function called "Active Edge" — activates the Google Assistant (Google's version of Siri). The main bonus: This avoids the awkwardness of saying "OK, Google," while out in public. The assistant works better too, particularly with commands you need while traveling — asking for directions, easy translations into different languages, and even switching your phone into Do Not Disturb mode or accessing the flashlight quickly.
6. Longer battery life while you're on the road
According to Google, the new phones can now get up to seven hours of additional battery life on just 15 minutes of charging. The battery saver function, which was in the previous iteration, also helps extend the battery life so it lasts for an entire day.
Finally, there are a few additional changes that aren't necessarily travel-focused, but are general welcome improvements. On the Pixel 2 XL, there's an option to take advantage of the larger screen by pinching out on videos to allow them to spread to the edges, greatly improving the viewing experience. New notification dots — similar to Apple's notifications — are also good for reminding you of new mail or messages, without having to remember what each icon in the notification bar correlates to. And the home screen now prominently shows the next appointment on your calendar, ensuring you never forget a theater showtime or restaurant reservation.