After Trump threatens NBC News, FCC chair says commission supports First Amendment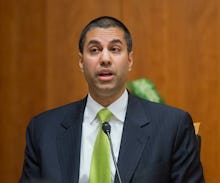 One week after President Donald Trump threatened to challenge the broadcasting license of NBC News, the chairman of the Federal Communications Commission has clarified that the commission "doesn't have the authority" to revoke a broadcasting license because of certain content.
Ajit Pai, who was appointed to the FCC in January, said at an event on telecom law Tuesday that the FCC would "stand for" the First Amendment, although he did not mention Trump by name.
"I believe in the First Amendment, and the FCC under my leadership will stand for the First Amendment," Pai said in response to a question about Trump's tweets. "Under the law, the FCC does not have the authority to revoke a license of a broadcast station based on content of a particular newscast."
On Wednesday, Trump went after NBC News after the news outlet reported that Trump had expressed interest in increasing the United States' nuclear arsenal. Trump called the report "pure fiction" and suggested a "challenge" to the company's "license."
"With all of the fake news coming out of NBC and the networks, at what point is it appropriate to challenge their license?" Trump tweeted.
As Mic previously reported, Trump's threat did not seem to be based on the laws that govern the FCC. While the commission can go after individual broadcasting stations for certain violations, it does not have authority over an entire broadcasting network like NBC News. Additionally, there are strict limits as to what the FCC can punish a station for broadcasting.
Democratic lawmakers had called for Pai to speak out against Trump's remarks.