Iman Shumpert's daddy-daughter photo inspires men to share heartwarming fatherhood moments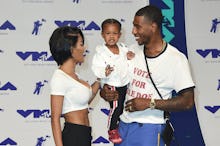 When he's not on the basketball court, Iman Shumpert is the proud husband to actress and model Teyana Taylor and dad of their 1-year-old daughter Iman Tayla Shumpert Jr. The NBA star posted a photo all smiles with his little girl Sunday, sending a shockwave of tenderness into the Twitterverse that was felt by many, especially other fathers.
Soon, the heartwarming image went viral and inspired other men to share their own cute kid moments. Now we have not just one, but a whole thread of photos to adore, like the ones below:
After seeing the domino effect of joy his photo inspired, Shumpert later shared another update of gratitude to those who posted their own family photos.
With just one tweet, Shumpert brought forth more images of fatherhood and gave us one more reason to believe in the good of humanity.