Here's what you need to know about tbh, the anonymous compliments app Facebook just bought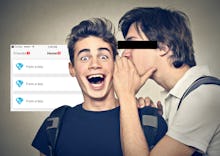 We regret to inform you that the MySpace-era days of talking about your friends behind their backs online didn't end when you graduated high school — they've just taken the form of smartphone apps.
One such anonymous gossip app, called tbh — an internet abbreviation for "to be honest" — was just scooped up by Facebook for an undisclosed amount of money; a move that puts it in the company of other Facebook-acquired social powerhouses like Instagram and WhatsApp.
"When we met with Facebook, we realized that we shared many of the same core values about connecting people through positive interactions," tbh's news release said. "Most of all, we were compelled by the ways they could help us realize tbh's vision and bring it to more people."
What is tbh?
If this is the first time you're hearing about tbh, here's how it works: Once you download it and select what grade you're in — a step that provoked a full-on mid-life crisis for this 20-something reporter — you pick your gender and fill out a few other personal details.
Then, once your contacts are all synced up, you'll be presented with a series of prompts. Things like "Always has their phone fully charged," "The sunshine on my cloudy day" or "Will show up to school in the sickest Halloween costume," and you have to pick which of your friends meets that description best.
Once you choose a friend, it appears to show you their ranking for that question relative to the other people you could've chosen. In other words, if those bars reflect data about each user, you'll be able to tell that people in your social circle really don't think Stacy has her business together when it comes to buying other people cool birthday gifts. Well, not compared to Adam S., anyway. He's just so thoughtful, right? (Mic has reached out to tbh for clarification about this detail of the app and will update with any response.)
The whole thing is anonymous, which means the person on the receiving end of your compliment won't know that it was you who fancies their uncanny ability to always have a fully charged phone. They'll just see a notification that a boy or a girl paid them that specific compliment.
For example, here's what it looked like on my co-worker's phone when I selected him on several prompts:
Where did tbh start?
Before the app existed, the whole "tbh" thing actually started as a trend on other social networks, like Instagram. There, someone would caption one of their posts, saying "like for a tbh." Then, when someone liked their post, they'd go to the liker's account and leave a compliment structured like this: "tbh you're really pretty."
"A tbh is almost like an Instagram currency — you can trade a tbh for a like on one of your photos," according to an article about the trend on Business Insider.
So, after a number of other failed attempts at gaining traction with other apps, the company Midnight Labs built a standalone app around the "tbh" trend, according to TechCrunch. But unlike other anonymous social apps like Yik Yak or Ask.fm, tbh bills itself as a more positive, compliment-based app rather than one that facilitates bullying.
"Tbh is an app for giving anonymous feedback to friends," its website's FAQ page reads. "Unlike other anonymous apps, all the feedback is positive. We built tbh because we believe that social networks should make us feel better about ourselves — not worse."
Of course, even though prompts within tbh are all positively phrased, there's no denying the impact of seeing the compliments your friends are receiving relative to your own. If Todd sees that five people have told Sarah her freckles are "on fleek" and nobody has said the same about him, it might affect his standing in his social circle's nebulous, ever-changing hierarchy.
Regardless of how you feel about the app itself, the power of Facebook's acquisition is undeniable. As of this writing, four of the top 10 free apps on the iOS App Store are owned by Facebook — including tbh, which has been downloaded more than 5 million times in the last few weeks.
Oct. 18, 11:15 a.m. Eastern: This story has been updated.