When wineries burn, what gets left behind?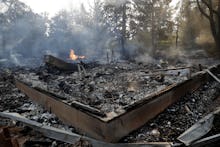 What lies beneath the charred remains of a Sonoma County winery?
As 15 major wildfires continue to burn throughout northern California — claiming at least 41 lives and leveling more than 5,700 structures so far — residents are slowly returning to the ash-blanketed lots where their homes once stood to pick through the detritus.
Unfortunately, the rubble is often littered with the remnants of household items like batteries, paints and pesticides which, once burned, transform into toxic waste that can make cleanup efforts a hazard.
Abbott Dutton, the media relations manager at California's Department of Toxic Substances Control, said in a phone interview that while people might not recognize everyday household items as imminent threats, it's important to understand that fire can have transformative effects.
"Maybe household waste such as a battery is OK when it's in one form, but once it's burned, now it might become toxic," Dutton said. "Paints that are left behind, same thing. Electronic waste, flammable liquids — it's in a different state now, so when it's been burned and it's all that's left there in the ground, that's when our contractors need to come in and safely remove it."
After the fires in a given area have been contained, Dutton said, the DTSC moves in, scooping out the hazardous waste — including building materials like asbestos — to clear the way for restoration efforts.
"It's hazardous waste, so we wouldn't want it left on the property ... We want to make it so that people can rebuild," she said.
But cleanup efforts in the wake of the disastrous fires are unlikely to be a cut-and-dry affair.
Dr. Alan Lockwood, a retired neurologist, told the New York Times the environmental damage posed by the wildfires — which California Gov. Jerry Brown described as "one of the greatest, if not the greatest tragedy" the state has ever faced — is best compared to the environmental disaster that ensued in New York after 9/11.
"In modern times this has got to be an unprecedented event, and a major hazard for the public and for property owners," he said. "One never knows what people have stashed in their homes."
The leaching toxins aren't the first time in 2017 that hazardous substances have threatened the environment in the wake of a natural disaster. After Hurricane Harvey ravaged Houston and surrounding areas in September, murky floodwaters contaminated with substances including arsenic, lead and raw sewage claimed the life of a woman who became infected after being exposed.