ESPN distances itself from new partner 'Barstool Sports' after host calls out abusive 2014 article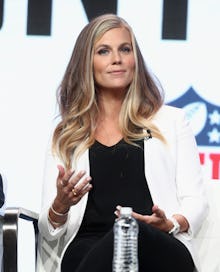 Hours before ESPN2 was set to debut a sports talk show with the website Barstool Sports Tuesday night, the network was forced to distance itself from its new partner after a public spat between the site's creators and a longtime ESPN personality.
Sam Ponder, host of the ESPN's "Sunday NFL Countdown," first called out Barstool Sports on Monday night for abusive and sexist comments made about her in 2014. She pointed to an article in which Barstool founder Dave Portnoy told Ponder to "go fuck yourself," because she criticized the website for objectifying and disrespecting women.
"The comments about Sam Ponder were offensive and inappropriate, and we understand her reaction," ESPN's executive vice president of programming and scheduling Burke Magnus said in a statement provided to Mic. "She is a valued colleague and doing a great job for us. As stated previously, we do not control the content of Barstool Sports."
Barstool Sports debuts its late-night sports talk show "Barstool Van Talk" on ESPN2 Tuesday. The network added that it does "have final say on the content of that show."
Portnoy's 2014 comments were part of an editor's note added to the original article, written by Barstool Sports blogger John Feitelberg. The post was in response to Ponder, who had criticized the site for disrespecting women while voicing strong criticism of former NFL player Ray Rice, who was caught on camera assaulting his then-girlfriend.
At the time, Ponder tweeted: "Blogs/websites that constantly disrespect women & objectify their bodies, then take a strong stand on the Ray Rice issue really confuse me."
In the post, Portnoy and Feitelberg both lobbed a string of expletives at Ponder and implied that she could only do her job "because she's attractive. Quite the stance," Feitelberg wrote. "…I like pretty girls wearing little clothes and I think it's funny that women are not great drivers."
Portnoy wrote: "FUCK SAM PONDER THAT BIBLE THUMPING FREAK," adding:
So it's official. Sam Ponder is an idiot. I mean this tweet from her is not only infuriating but mindbogglingly stupid. Hey Sam you really can't see the difference between saying a chick is hot and beating the fuck out of a woman? You don't see the difference? Like guys can't look at girls in bikinis or talk about sex without thinking it's okay to knock them unconscious? Please tell me you're not this dumb. Seriously you sound like a KO Barstool freak, not a chick that has a job where the #1 requirement is you make men hard. So give it a rest with your righteous indignation. Your entire career and livelihood is based on appealing to guys like me and blogs like ours. Bottomline is guys thinking chicks are hot is natural. It's Darwinism. It's never gonna change. But that doesn't mean we don't respect women and think it's okay to hit a woman. I have no idea what's so confusing about that. Go fuck yourself.
Dan Katz, the host of the soon-to-premiere ESPN 2 show who goes by @BarstoolBigCat on Twitter, did not write the article, as Ponder first implied and later stated in a subsequent tweet.
Ponder corrected that on Tuesday morning, although she continued to criticize Katz, saying he "laughed along."
Katz did criticize Ponder in a 2014 episode of Barstool's "Rundown" podcast that Ponder referenced. In that episode, Portnoy called Ponder "a fucking slut" and told her to "sex it up and be slutty, not be some prude fucking jerk who everybody hates."
In response to Portnoy, Katz assailed Ponder.
"Show me one person who likes Sam Ponder," he said. "Everyone hates her but no one will say it out loud."
Portnoy said in a tweet that Ponder had committed "libel," and said that the remarks were jokes. Katz tweeted that the "haters and losers" were trying to get the show cancelled.
Barstool and Portnoy have both faced criticism for sexist, misogynistic and otherwise distasteful remarks that have included blogging about Tom Brady's infant son's genitalia, and for saying that women who look a certain way "should be raped." Portnoy has defended Barstool Sports' posts, saying that the criticism is unfair and that the site is "comedy."