Trump to wife of fallen soldier: He knew "what he signed up for"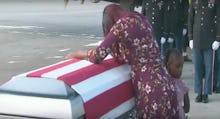 On Tuesday, President Donald Trump made a phone call to the grieving widow of a U.S. service member killed in action, which left one Florida congresswoman fuming over its alleged insensitivity.
According to Florida Rep. Frederica Wilson — who told NBC Miami that she had been present during the call, which was on speaker phone — Trump told Sgt. La David T. Johnson's pregnant widow, Myeshia, that her husband "knew what he signed up for ... but when it happens it hurts anyway."
"I wanted to curse him out," Wilson later wrote in an emailed statement to NBC News. "I asked the family to give me the phone so that I could, but they wouldn't. It was almost like saying, 'You signed up to do this, and if you didn't want to die, [you] shouldn't have signed up.'"
Johnson, 25, was one of four U.S. soldiers killed during a mission in Niger on Oct, 4. Trump — who recently criticized his predecessor, former President Barack Obama, for failing to call the families of fallen soldiers during his time in office — had waited two weeks to make the call to Johnson's widow, citing the need to allow "a little time to pass."
On Tuesday, when the call came, Johnson's family was making its way to the airport to receive the soldier's remains.
"Everyone knows when you go to war you could possibly not come back alive but you don't remind a grieving widow of that," Wilson told local news in Miami. "That's so insensitive."
On Wednesday, Trump repudiated Wilson's characterization of the call on Twitter.
"Democrat Congresswoman totally fabricated what I said to the wife of a soldier who died in action (and I have proof). Sad!" he wrote.
During an appearance on CNN's New Day Wednesday morning, Wilson fired back.
"I don't know what kind of proof he could be talking about. I wasn't the only person in the car," she said. "I have proof, too. ... This man is a sick man."