Democrat Doug Jones pulls even with Roy Moore in Alabama Senate special election: poll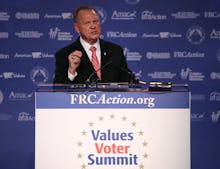 A Fox News poll published Tuesday evening found that Republican Roy Moore, the controversial former judge who was twice removed from office, is tied with his Democratic opponent in a special election for an Alabama seat in the U.S. Senate, a stunning finding given the state's strong GOP lean.
Moore and Democrat Doug Jones are tied at 42%, roughly two months out from the Dec. 12 special election.
The fact that the race is tied comes as a surprise in deep-red Alabama, which President Donald Trump won by a 28-point margin in the 2016 presidential election.
Many Republicans feared Moore — who is known for making controversial and offensive comments — could imperil their party's chance of holding onto the seat, which was vacated by Attorney General Jeff Sessions when he left to lead the Department of Justice.
A super PAC with ties to Senate Majority Leader Mitch McConnell spent millions in an attempt to defeat Moore in the primary. But Moore went on to easily defeat Sen. Luther Strange, the Republican appointed to fill the vacancy left by Sessions until a special election could be held.
Polling experts say the results are not all bad for Moore.
The 11% of undecided voters in the poll lean Republican, according to the New York Times' Nate Cohn.
However the fact that the GOP may have to spend money to push their candidate over the finish line in a state as red as Alabama is not something Republicans will cheer.