Trump again hits Sessions in early morning Twitter rant against Comey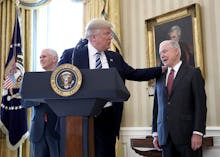 President Donald Trump once again appears to be publicly chastising Attorney General Jeff Sessions, dropping a dig at the Department of Justice in an early morning rant Wednesday against fired FBI director James Comey.
"Where is Justice Dept.?" Trump wrote, responding to reports that Comey had penned a draft of his statement clearing Hillary Clinton of wrongdoing before wrapping up his probe into her email scandal.
Trump has repeatedly admonished Sessions over Clinton, tweeting in July that he had taken a "VERY weak position" on her "crimes."
That sentiment has been picked up by the far-right media, with Trump ally Roger Stone and Republican Rep. Matt Gaetz of Florida questioning in an InfoWars segment Thursday why Sessions is "ignoring Clinton corruption."
But Trump himself said after the election that he no longer felt "very strongly" about his stated desire during the campaign to "lock her up," telling reporters in November that he didn't want to prosecute her because "she went through a lot" and "suffered greatly in many different ways."
Trump, however, was infuriated by Sessions' decision in March to recuse himself from matters relating to the Russia investigation and said in an explosive interview with the New York Times in July that he "would have picked somebody else" for attorney general had he known Sessions would have done so.
"How do you take a job and then recuse yourself?" Trump asked. "If he would have recused himself before the job, I would have said, 'Thanks, Jeff, but I'm not going to take you.' It's extremely unfair — and that's a mild word — to the president."
In that same interview, Trump also slammed Sessions for his testimony during his Senate confirmation hearing, saying that his attorney general "gave some bad answers."
"He gave some answers that were simple questions and should have been simple answers, but they weren't," Trump told the paper.
Sessions to appear before Senate Judiciary Committee
Trump's latest jab at Sessions comes as the attorney general is set to testify before the Senate Judiciary Committee Wednesday.
Senators are expected to question Sessions over Russia as well as conversations he has had with Trump. During his June testimony before the Senate Intelligence Committee, he claimed he could not disclose any discussions he had with Trump over Comey because of "executive privilege."
Trump fired Comey in May, citing recommendations from Sessions and Deputy Attorney General Rod Rosenstein as his rationale; each have said that Comey was fired because of how he handled Clinton's email controversy — not because he was heading the FBI investigation into Russia's election interference.
Since then, Trump has repeatedly gone after the former FBI director, accusing him of "totally illegal" leaks and of lying in his public statements following his dismissal.
He first bashed Comey over apparently drafting his statement clearing Clinton back in September.
In his tweets Wednesday, Trump said that Comey "totally protected" Clinton and that he was "the best thing that ever happened to her."