Tommy Hilfiger makes history with its clothing collection for adults with disabilities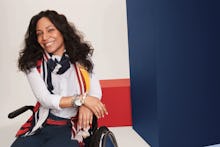 With a reputation for classic sportswear, patriotic colors and preppy silhouettes, you probably wouldn't expect Tommy Hilfiger to be one of the most progressive and modern brands out there, but that's just how it is.
Thanks to Hilfiger, a major fashion brand has taken creating clothes for adults with disabilities seriously, and today marks its first-ever launch of adaptive adult clothing.
Called Tommy Adaptive, the new collections are comprised of 37 men's and 34 women's styles that look exactly like what Hilfiger usually sells — like polo T-shirts, summer dresses and denim — but there's special hidden features within the clothes that make them easier for people with certain disabilities and their caretakers.
Adjusted seams make dressing and undressing easier. There's magnetic closures at the shoulder of dresses and velcro closures in jeans. Adjusted leg openings and hems help accommodate leg braces or orthotics, while magnetic zippers can help someone zip or unzip with one hand. Even thought went into the pant loops, which are wider and featured inside of waist bands to make it easier to pull up pants.
For Hilfiger himself, this collection falls in line with what the brand has long stood for and builds on what it began in February 2016 when it became the first major fashion brand to produce the an adaptive clothing collection for children.
"Inclusivity and the democratization of fashion have always been at the core of my brand's DNA," Tommy Hilfiger said in a press release. "These collections continue to build on that vision, empowering differently abled adults to express themselves through fashion."
In partnership with the organization Runway of Dreams, which encourages brands to create clothing with people of various disabilities in mind, the first collection for children featured shirts with magnet closures instead of buttons and adjustable waistbands for wheelchair users.
Later that year, Hilfiger released even more adaptive clothing for children, with 58 new garments, including bomber jackets with magnet closures and pants with velcro closures and adjustable hems.
The doubling down on this dedication to outfitting kids with disabilities showed that making these kinds of clothes could actually be profitable.
"Seeing the success of the spring collection was an incredible validation of our mission and proves that there is a real need for adaptive clothing at the mainstream level," Mindy Scheier, the founder of Runway of Dreams, told Mic in a previous interview. "With this collection, we are one step closer to making that a reality for people of all abilities, including adults and children."
And clearly since Hilfiger has moved onto creating adaptive adult clothing, the brand considers the two children's collections a major success. So now we're thinking: Why is it just Hilfiger doing this?
Money, of course, is an obvious reason. It takes money and time and resources to create a high-quality collection such as this. But as fashion becomes a more inclusive space — with more disabled models walking on fashion runways, like Chromat, and popping up in campaigns, like Jillian Mercado, who uses a wheelchair, did for Nordstrom — we can't help but feel like it's only a matter of time until more disabled people get the clothes, and recognition, they deserve.