Olympic gymnast McKayla Maroney posts her #MeToo story, says she was sexually abused by team doctor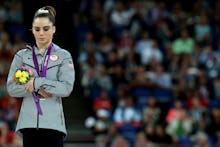 In a statement posted on Twitter early Wednesday morning, U.S. Olympic gold medalist and breakout star of the 2012 Olympic Games in London McKayla Maroney said she was sexually abused by her team doctor, Larry Nassar, starting when she was just 13.
Maroney, 21, posted her statement along with the hashtag #MeToo, and said she had been inspired to share her story after a flood of women came forward about their experiences with sexual harassment and assault following a series of allegations against Hollywood producer Harvey Weinstein.
"Everyone's words over the past few days have been so inspiring to me," Maroney wrote. "I know how hard it is to speak publicly about something so horrible, and so personal, because it's happened to me too. People should know this is not just happening in Hollywood."
Maroney described being sexually abused by Nassar, who was the team doctor for USA Gymnastics, starting when she attended a National Team training camp at 13. The abuse didn't end, Maroney said, until she left the sport.
USA Gymnastics responded to Maroney's post in a statement on Wednesday, saying the organization "admires the courage of those, like McKayla Maroney, who have come forward" to share their experiences of abuse.
As of July, more than 100 women had come forward with sexual abuse allegations against Nassar, NPR reported at the time. Three of Maroney's teammates, Jamie Dantzscher, Jeanette Antolin and Jessica Howard, have all publicly accused Nassar of sexual abuse when they were teenagers.
In addition to serving as a USA Gymnastics team doctor from 1996 to 2015, Nassar was a doctor at the sports-medicine clinic at Michigan State University from 1997 until he was fired in September 2016, according to MLive.
Multiple student athletes have come forward to say they were sexually abused and assaulted by Nassar while he was serving in his role at MSU's sports-medicine clinic. In July, Nassar pled guilty to charges related to child pornography.
In the statement she posted on Twitter, Maroney talked about the need for a systemic change to address widespread sexual abuse and assault. "Things have to change... but how do we begin," she wrote.
"People, institutions, organizations, especially those in positions of power, etc. need to be held accountable for their inappropriate actions and behavior. ... Our silence has given the wrong people power for too long, and it's time to take our power back. And remember, it's never too late to speak up."