Here's how Trump's morning Twitter barrage lined up with 'Fox & Friends' coverage of the same issues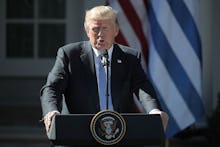 President Donald Trump tweeted Wednesday morning about everything from Hillary Clinton to the National Football League — topics that were already familiar to viewers of Fox & Friends.
As pointed out on Twitter by Media Matters fellow Matthew Gertz, Trump's morning tweets lined up suspiciously well with Wednesday's episode of Fox & Friends, a show the president is known to watch and from which he has been known to parrot ideas. The Washington Post found that Trump has tweeted to or about Fox News nearly 130 times since he was elected president in November, and the president has also frequently repeated views and topics he has heard on the network.
Here's how his Wednesday tweets matched up with the Fox News program.
Tax reform
Trump tweeted about his tax reform plan Wednesday morning, saying, "The Democrats will only vote for tax increases. Hopefully, all Senate Republicans will vote for the largest tax cuts in U.S. history."
Thirty minutes prior, Gertz noted — the president reportedly records Fox & Friends if he cannot watch it live — the Fox & Friends hosts took on that same topic.
The Fox program discussed Trump's accusations of the Democrats as "obstructionist" on tax reform, Gertz tweeted. They also aired an interview with Herman Cain on his views on the tax reform bill and Democrats' objections to it. The news show also contained an interview with Sen. Rand Paul, who said he was considering voting "no" on tax reform — potentially prompting Trump's tweet about Senate Republicans.
James Comey and Hillary Clinton
Trump also tweeted about James Comey Wednesday morning, saying that the former FBI director "was the best thing that ever happened to" Hillary Clinton — Trump previously used the FBI director's treatment of Clinton to explain Comey's firing.
The president's discussion of Comey and Clinton came after confirmation from the FBI that Comey drafted a letter exonerating Clinton before the investigation into her emails officially ended — a topic that the Fox & Friends hosts were eager to take on shortly before Trump's tweet.
The NFL
Trump continued his tirade against the anthem protests taking place in the NFL on Wednesday, tweeting that the football league's decision not to force players to stand during the anthem showed "total disrespect for our great country!"
The president's statement, unsurprisingly, came soon after the topic had been discussed on Fox & Friends, as Tomi Lahren made an appearance to talk about the protests and ask why the players have decided to kneel for the anthem in the first place — which many of the players have already made clear.
Phone call to veteran's widow
During his Wednesday Twitter outburst, Trump also took on a recent report by Rep. Frederica Wilson about a phone call the president made to the family of Sgt. La David T. Johnson, who was killed in the line of duty. The tweet took place soon after Fox & Friends reported on Wilson's comments, according to Gertz.
The congresswoman told MSNBC that Trump had said to the grieving family: "He knew what he was signing up for, but I guess it hurts anyway." Though Trump said in his Wednesday tweet that Wilson had "totally fabricated" what he said and suggested he had "proof," both Johnson's mother and Wilson have stood by the accuracy of the report.