Harvey Weinstein's alleged assault victims may not pay a cent to take him to court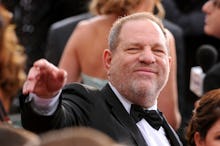 Until the bombshell media reports of Hollywood producer Harvey Weinstein's alleged pattern of sexual misconduct were released, there was a great deal of pressure for victims to keep stories to themselves.
If an accuser wanted to sue for damages, they would have faced a powerful opponent in the form of the Weinstein Company, its media consultants and its attorneys. Even a New York Police Department-led sting operation didn't yield enough evidence to convince prosecutors to bring the case, as the New Yorker reported. And in general, the imbalance between vulnerable plaintiffs and sometimes powerful defendants is one reason why only 9% of sexual assault crimes are prosecuted at all.
Yet it has gotten easier for people of limited means — but strong legal cases —to have their day in court, without having to pay a cent upfront. One reason? The rise of something called "litigation financing."
Though specific rules vary by state, these financing companies typically buy a share of a person's future legal winnings. If an alleged victim hypothetically partnered with a litigation financier, they could potentially sue Weinstein without financial risk, said Benjamin N. Cardozo School of Law professor Anthony Sebok, who has studied the topic.
"I'm a big fan of litigation funding," Sebok said. "It's a way of taking a resource — money today — and using it to maximize the other resource, your lawsuit, to see if you can grow it. That's good for 'little people' ... the average run-of-the-mill person who has a personal injury claim, it helps them buy lawsuit value."
Of course, it's not free money. Litigation financiers won't work with anyone: Cases must have a shot at winning — big — said Eva Shang, founder and CEO of Legalist, a San Francisco-based startup that bankrolls lawsuits in this way.
Recently, Legalist made headlines for offering a $100,000 "bounty" in the form of paid-legal fees to alleged Weinstein victims to come forward.
"We have a closed end fund, so we're subjected to standard procedures to make sure it's a valid and meritory claim," Shang said. "This is a situation where litigation funding can come into play and help people who otherwise wouldn't be able to finance these lawsuits on their own."
If a person wanted to bring a case against Weinstein with the help of Legalist, it would first submit a confidential claim through a special webpage. According to Shang, there are only three situations where a plaintiff might be on the hook for any money at all: If they won, in which case Legalist would take about a third of the earnings; if they were under a pre-existing contract with the defendant with a provision about legal fees; or if a judge issued an exceptional ruling (say, that the case was a waste of the court's time).
So what's the catch, really?
A 2010 assessment of litigation funding cases from the New York Times and the Center for Public Integrity was generally positive, finding that the practice helped "to ensure that cases are decided by merit rather than resources" — though it did highlight one case in which a defendant was liable for interest payments. In that case, an eight-year legal battle resulted in a much smaller-than-expected reward. Shang says no Legalist cases have resolved in this way, though the company is relatively new, launching in 2016.
Other litigation financiers are capitalizing on the Weinstein revelations as well. The CEO of Legal-Bay, another litigation financier, reportedly told TMZ it was "on the hunt" for actresses who weren't household names and whose careers may have been harmed by Weinstein. Legal-Bay didn't immediately respond to Mic's request for comment.
Litigation financing is a relatively new development, Sebok said. In some states, it's still illegal for third parties to bankroll cases that don't affect them directly, for purely financial reasons. But third-party financing took off in 1963, when the Supreme Court ruled in favor of the NAACP in NAACP v. Button, which held that third parties could fund lawsuits in support of political activity.
The pursuit of profit, Sebok said, is also increasingly an acceptable motive in these third-party cases, and since the late '90s especially, financial institutions have increasingly "invested" in complicated, expensive legal cases. In 2010, for example, a Citigroup-backed company spent $35 million backing lawsuits on the part of workers who got became sick working on Ground Zero in the wake of 9/11, turning an $11 million profit in the process.
On the consumer end, one of the most common uses of litigation financing today, Sebok said, isn't actually to cover legal fees — it's to make sure a plaintiff has enough cash to wait out a lawsuit without settling. If you're worried about making rent next week, you're not well-positioned to wait out a company pressuring you into taking a low-ball settlement.
Even if financing firms are unsuccessful in tracking down alleged Weinstein victims, you're probably not done hearing about the industry. As a Sept. 18 Wall Street Journal story points out, it's one of Wall Street's favorite new asset classes. At Burford Capital, the biggest player in the space, the Journal reported, profits in the first half of 2017 were up 170% over the year before.
Sign up for the Payoff — your weekly crash course on how to live your best financial life.