New poll shows 76% of Republican voters think the media invents stories about Trump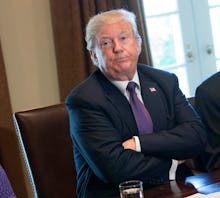 A new poll from Politico/Morning Consult found that 46% of all voters believe the media makes up stories about President Donald Trump and his administration — and among Republican voters, that number reaches 76%.
The number of respondents who expressed distrust for the media was highest among Trump's staunchest supporters. The poll found that 85% of voters who "strongly approve" of Trump's job performance also believe the media fabricates stories about him.
According to the Washington Post's comprehensive Fact Checker project, an ongoing database evaluating the veracity of Trump's statements since taking office, Trump had made "1,318 false and misleading claims" as of Oct. 9.
Trump himself has claimed, again and again, to be the victim of "fake news" stories. Earlier in October, after NBC reported on tensions between Trump and Secretary of State Rex Tillerson — including the reported detail that Tillerson had allegedly called Trump a "moron" — Trump called the network "dishonest and disgusting (fake news)."
Days later, he again referred to "all of the fake news coming out of NBC and the networks," saying it was "bad for [the] country!"