The best thing about this new "Star Wars" movie will be Laura Dern and her purple hair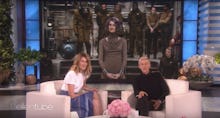 The people behind the Star Wars movies are apparently super dedicated to making people who normally wouldn't give a rip about another movie about people in space (like us) really give a rip about seeing more people in space.
First there have been the trailers for the new Star Wars movie, Star Wars: The Last Jedi, which is coming out in December. They're powerful, with the female lead kicking ass. There are cute new, wide-eyed characters. Then there's the rumor of John Boyega and Oscar Isaac... maybe kissing. Color us intrigued.
On Wednesday, these Star Wars people got us hook, line and sinker. It came to us in the form of an image, popping up behind goddess Laura Dern and Ellen DeGeneres on the Ellen Degeneres Show.
The image showed Dern's character in the movie, Vice Admiral Amilyn Holdo, standing in front of a bunch of other... space people? Who cares? What matters here is Laura.
Look at her, y'all. Just look at her. A vision in lavender. A fashion editor from the future. Never in the history of hair have finger waves looked so good.
We've never cared about space more.
We are convinced that this will be the best part of this movie. Oscar Isaac will be a close second.
You can see more of Dern talking about Star Wars below: