Green card holders cannot enlist in the Army Reserve "for the time being," Army confirms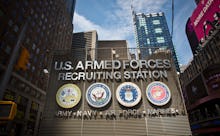 An Army official said green card holders cannot enlist in the Army Reserve "for the time being," responding to a Mic report from Tuesday about previously unreported changes to Army recruitment policies.
The change is due to a Department of Defense policy announced Friday, which requires green card holders to have completed background checks before shipping off to basic training.
Kelli Bland, director of public affairs at the U.S. Army Recruiting Command, said green card holders can still enlist as active duty members of the Army.
For active duty members, the Army has a Delayed Entry Pool, where enlisted green card holders can wait while they undergo background checks. But the Army Reserve doesn't have a program where enlistees can wait to undergo background checks.
"Since this does not align with the new [Defense] policy, U.S. Army Recruiting Command has put Army Reserve enlistments on hold for the time being," Bland wrote in an emailed statement. "We are in the process of re-establishing a Reserve Delayed Entry Pool, so we can once again enlist I-551 holders in the Army Reserve while also complying with the policy."
Bland did not immediately return Mic's request for comment on how long it will be before green card holders can enlist in the Army Reserve.
Mic reported Tuesday that Army recruiters had received an email instructing them not to "ship" or "enlist" green card holders "until further notice."
That email had been sent to recruiters for the Army, Army reserves and National Guard recruiters on Monday — three days after the new policy on background checks had been announced. The email did not specify that it only applied to the Army reserves, which according to one source who leaked the email to Mic, created great confusion.
The email followed a policy change that required that "all green card holders must complete a background investigation and receive a favorable military suitability determination prior to entering any component of the armed forces," according to a Friday news release.
Bland sent Mic an email that went out Friday to brigade operations officers in U.S. Army Recruiting Command the day that policy was announced that said green card holders scheduled to enlist in the Army Reserve would be "unable to do so until further notice."
The Army Reserve missed its recruitment target in fiscal year 2017 by more than 1,000 recruits, the USAREC said in an Oct. 12 news release — one day before the new policy was announced.
On Wednesday, Sen. John McCain (R-Ariz.), chairman of the Senate Armed Services Committee, said he thought preventing green card holders from joining the Army Reserve was "ridiculous."
"It would cut down on a very valuable sector of men and women who are willing to serve our country," McCain said.
Earlier Wednesday — when it was still unclear who the new policy would impact — Sen. Tim Kaine (D-Va.), also a member of the Armed Services Committee, said a change that would prevent green card holders from joining the Army would be "bad policy" that will "hurt our military."
"I've traveled as a member of the armed services committee," Kaine said. "You meet some unbelievable, patriotic troops who have green cards."
Oct. 18, 2017, 7:36 p.m. Eastern:This story has been updated.
Will Drabold contributed to this report from Washington, D.C.