Despite death threats, Alligator Brewing continues to protest Richard Spencer's UF speech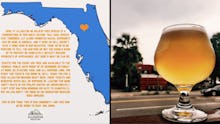 In Trump's America, even beer can become political.
Tall Paul's Brew House, a bar in Gainesville, Florida, posted on its Facebook page Thursday to inform followers that Alligator Brewing, a nano-brewery located in Tall Paul's, would give people free beer in exchange for tickets to white supremacist Richard Spencer's talk at the University of Florida, Gainesville.
The rationale? If ticket-holders relinquish their tickets instead of attending the event, "reserved spots will be disposed of, leaving more empty seats." the Facebook post noted. It continued, "We unfortunately can't stop him from bringing his hate to Gainesville, but we can empty the room so his disgusting message goes unheard."
The Facebook post quickly gained traction among University of Florida alums and others who applauded the brewery's plan — the post has 2,100 likes and roughly 4,400 shares as of Wednesday afternoon. A tweet with a screenshot of the Facebook post also garnered over 18,300 retweets.
"The only thing that we are really trying to do is respect our community," a Tall Paul's spokesperson said by phone on the condition of anonymity to protect his personal safety. "With many minds on college campuses that can be molded, we decided to do something that could possibly prevent his message of hate to be distributed."
While many are praising the brewery, others are condemning it — the spokesperson said people associated with the Alligator Brewing event have received death threats.
According to the Miami Herald, Spencer's team has learned of the plan. Instead of allowing community members to get tickets from the university, Spencer's team will distribute the event tickets themselves, a method designed to "avoid the sabotage," Cameron Padgett, a Georgia grad student organizing on behalf of Spencer, told the Herald.
The Tall Paul spokesperson declined to comment on specifics when asked whether there would be a change of plans given the new ticket distribution method.
"Just like the group has a right to free speech, the [brewery] also has a right to promote as they like. I agree with it," Nelson Irizarry, a longstanding Gainesville resident, said in a Facebook message to Mic. Irizarry works as an Uber driver but said he will not be driving and doesn't plan to go outside that day either, in order to protect his safety — especially given that Florida has declared a state of emergency.
Mixing beer and politics is nothing new
Alligator Brewing joins an increasingly long line of craft brewers that aren't afraid to mix politics and beer.
"From Threes Brewing's Gender Neutral beer, brewed in honor of Pride month, to Spiteful Brewing Dumb Donald double IPA, brewers are using their cans and bottles as canvases for political speech," Joshua Bernstein, a beer and spirits author, said in an email.
Bernstein doesn't think beer is uniquely positioned to address politics, but he noted that many see beer as "a uniter, not a divider." Case in point: The well-received Heineken advertisement showing people with different beliefs conversing with beer in hand.
Mixing business with Trump talk isn't for everyone, of course. Bernstein noted that several months ago, Hill Farmstead, a Vermont-based brewery, tweeted a reference to Trump dismissing media as fake news.
"Let's not make beer political," one person tweeted back.
Does it make sense for breweries to assert their values?
"You can risk alienating your customer base by speaking your mind, but sometimes speaking your mind is more meaningful than simply selling another case of beer," Bernstein said.