As more experts call Trump's mental health into question, is it time to rethink the Goldwater Rule?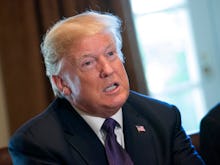 Every few months, it seems, a report about the behavior of President Donald Trump prompts a flurry of alarm, during which writers, pundits and politicians speculate on the mental fitness of the commander-in-chief.
In October, the cycle seemed to begin yet again with a report in Vanity Fair written by Fox News chronicler-turned-political-reporter Gabriel Sherman. That report detailed, among other things, "what several people close to the president have recently told [Sherman] in private: that Trump is 'unstable,' 'losing a step' and 'unraveling.'"
That report isn't the first of its kind, and it almost certainly won't be the last as the internal White House gossip continues to flow, and as lawmakers continue to remark on Trump's mental state. "I think he's crazy," Sen. Jack Reed (D-R.I.), was caught saying on a hot mic earlier this year; retiring Sen. Bob Corker (R-Tenn.) said in an interview with the New York Times in September that Trump "concerns" him, setting off a contentious back-and-forth with Trump that culminated in Corker describing the White House as "an adult day-care center."
Pundits, writers and others in the media have similarly made declarations about the mental state of the president. CNN analyst Ana Navarro declared in June that Trump was a "crazy lunatic, [a] 70-year-old man-baby." MSNBC host Joe Scarborough called Trump a "man in decline" in May; he and his co-host Mika Brzezinki wrote in an op-ed that Trump was "not mentally equipped to continue watching our show." Liberal pundit Keith Olbermann's book, titled, Trump is F*cking Crazy (This Is Not a Joke), hit bookshelves Tuesday. In August, CNN's Brian Stelter drew the ire of right-wing media for posing "uncomfortable" questions that politicians, members of the media and members of the public were, Stelter said, already asking, including: "Is [Trump] suffering from some kind of illness? Is he fit for office?"
Such media figures are not barred from speculating on Trump's mental fitness, but many of their potential sources are. Since 1973, most psychiatrists and mental health clinicians have operated under the Goldwater Rule, named after the former Arizona senator and failed presidential candidate Barry Goldwater.
When Goldwater was running for president in the 1964 election, the now-defunct quarterly magazine Fact distributed a survey to more than 10,000 psychiatrists around the country asking them to weigh in on Goldwater's mental state, according to New Yorker staff writer Jane Meyer, who wrote about the rule in May. The results of the survey were published in a special edition of Fact titled "The Unconscious of a Conservative: A Special Issue on the Mind of Barry Goldwater." In that issue, more than 1,000 clinicians said they believed Goldwater was psychologically unfit to be president. After losing the election in a landslide, Goldwater sued the magazine and its publisher for libel — and won.
The 37,000 psychiatrists who are members of the American Psychiatric Association are bound by the organization's ethics code, which has stated since 1973 that it is ethical violation for psychiatrists to weigh in on the mental state of a public persona who they have not personally treated.
The veracity of the rule has been the subject of much debate for years, but since Trump's rise and his presidency, the debate around the Goldwater Rule has heightened within this community of mental health professionals. In March, according to the New Yorker, members of the APA met to discuss the rule and its importance; a longstanding APA member, psychiatrist Leonard Glass, resigned in protest over the rule in April.
So far, the APA's official stance on the Goldwater Rule hasn't budged. This year, the organization felt it necessary to remind members that it is a violation "to provide professional opinions in the media about the mental health of someone" a member has not examined personally, or without the consent of a patient or a legal authority."
Celia Fisher, who teaches psychology and chairs an ethics committee at Fordham University, was the chair of the APA's Ethics Code Task Force, which authored the organization's ethics code. In a phone interview, Fisher said that it is the APA's stance that clinicians who attempt to diagnose or analyze the mental heath of someone they have not personally examined are committing "a form of malpractice."
"You cannot simply diagnose an individual without being able to use standardized assessment instruments or standardized interview procedures," Fisher said.
Fisher said that clinicians who are providing diagnoses or analyses of Trump's behavior are not privy to enough information to make informed statements about his mental health.
"[Clinicians] need to strongly articulate the limitations as to how far they can go in evaluating the extent to which [Trump] is exhibiting any type of psychopathology," she said. "Because they are really only seeing a public persona."
If clinicians want to offer general information about certain medical definitions, Fisher explained, "that is perfectly fine." (The American Psychiatric Association in October put out a similar statement that said members should feel free to provide general education to the public about mental illnesses.)
"Let the public decide," Fisher said.
But a growing group of clinicians are pushing back against the longstanding rule, saying that what they believe to be extraordinary times call for extraordinary measures. And debates over the Goldwater Rule have, over the last year, increasingly become framed as a free-speech issue within the community.
In July, the American Psychoanalytic Association, known as APSAA, a coalition of mental health professionals about one-tenth the size of the APA, made headlines for sending out an email to members that was reported as telling members to "ignore the Goldwater Rule."
Harriet Wolfe, the president of APSAA, said the association was not actively encouraging members to weigh in on Trump, but was instead seeking to clarify existing rules governing the organization.
The association, Wolfe said, had received a number of requests from members who felt compelled to make public statements or remarks to the press but were not clear on the organization's rules. According to APSAA, the group does not believe that speaking out about the mental fitness of an individual constitutes an ethical violation, because it is not a diagnosis.
"Our members can speak for themselves as long as they do so with integrity and with scientific responsibility," Wolfe said in a phone interview. "It can be alarming if a member of APSAA says something provocative about a political figure, but that's not a clinical opinion. … It's a personal opinion."
Some members of APSAA have, indeed, made their personal opinions of Trump's mental state clear. Last week, Mic published an interview with an APSAA member who suggested Trump was suffering from a specific mental disorder.
"You don't have to be Sigmund Freud to have something to say about this president and to know that there is something off about his mental state," psychiatrist and psychoanalyst Kerry Sulkowicz said in the video interview. "But to speak about it clinically, I do think there is pathological narcissism, which I do think Trump has."
Wolfe said that many APSAA members "feel they've seen enough at rallies, public events, [and on Twitter] to be able to describe behavior in ways that can sound to some like a diagnostic."
"The thing is," she added, "it doesn't matter really what diagnostic label someone comes up with. That [alone] is not going to solve what to many is a political problem."
But there is a group of psychiatrists and psychoanalysts who are moving beyond analyzing Trump in the press. That coalition of clinicians, which calls itself Duty to Warn, is speaking out about the president with the express political purpose of having him evaluated — and possibly even removed from office.
The group has been fiercely advocating for the creation of a nonpartisan panel of officials and mental health professionals that would analyze Trump and possibly removal under the 25th Amendment, which stipulates the removal of a president if the president is found to be "unable to discharge the powers and duties of his office."
The group is also advocating for the passage of House Resolution 669, sponsored by Rep. Ted Lieu (D-Calif.), which would prohibit the president from launching a nuclear strike unless Congress expressly authorizes the strike with an official declaration of war.
A number of people who are associated with Duty To Warn contributed to a book called The Dangerous Case of Donald Trump, in which more than two dozen psychiatrists, psychoanalysts and other mental health clinicians analyzed Trump's mental condition and offered their diagnoses. Dr. Bandy Lee, a forensic psychiatrist and faculty member of the Yale School of Medicine, compiled and edited the edition, which was published in October. It has since hit the New York Times bestseller list.
Lee, who also held an ethics conference at Yale to discuss Trump's mental health, has already met with some members of Congress "to consult and to educate on medical matters," she said, but she said she is not advancing a particular political action.
On Oct. 14, Duty To Warn hosted events in more than a dozen cities around the country; attendees in New York marched downtown to draw attention to their cause.
John Gartner, a psychologist, therapist and former member of APSAA who founded the Duty to Warn coalition, said he feels "1,000%" confident that he can diagnose Trump as a "malignant narcissist."
"I have read more of his words and observed more of his actions than all of my patients put together, practically," Gartner said. "And that's how we make a diagnosis — on observed behavior."
Gartner said the Goldwater Rule is out-of-date and "stupid," and that it only serves to protect the interests of APA members — not the public. Gartner said he and other members of the coalition feel they must speak out, and that the APA's ethics rule does a disservice to the public.
"In what other field are the people who are most expert on the topic forbidden from commenting on the topic?" Gartner said.
But Fisher said clinicians who diagnose Trump are the ones doing a disservice. She also vehemently disagreed with the group's use of the term "duty to warn," which specifically means that clinicians may breach doctor-patient confidentiality if a patient shows signs that they are an imminent threat to themselves or others.
"They are introducing a frivolity of the public perception of the profession," Fisher said. "And if the profession starts to act like all these other talking heads who are trying to get what's going on in the president's mind, then they are demeaning the profession for people who actually need a one-on-one relationship with a mental health professional in order to be adequately diagnosed."
"In my opinion, it is a disguise and an excuse for a political agenda," Fisher said. "And what they are doing is dangerous to this political system."
Duty To Warn, Gartner said, will remain politically active and plans to launch a political action committee and a corresponding super PAC. In several weeks, he said, members will convene to begin work on a digital advertisement that aims to spread the coalition's message about their opinions on Trump's mental health, and their fear that the president is a threat to the country.
That ad, Gartner said, will be micro-targeted to voters on Facebook. Gartner said he feels the group must act fast or face devastating consequences.
"We are so far past the issue of the controversy of the Goldwater Rule," Gartner said. "We are now facing the greatest psychiatric emergency in the history of the United States, and maybe even in the history of the world."
Oct. 22, 2017, 12:54 p.m.: This story has been updated.