'Project Runway' model Liris Crosse remembers her friend and 'Project Runway' alum Mychael Knight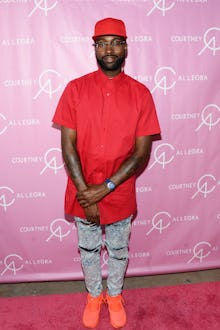 On Tuesday, news broke that designer and Project Runway alum Mychael Knight had died at the age of 39.
The news came as a huge shock to many who remember him from Project Runway's third season for a slew of still-iconic outfits, like his hot pink homage to Pam Grier. Knight had just hosted his own fashion show in early September as well.
For model Liris Crosse, a longtime friend of Knight's who's a model on Project Runway herself, it's been particularly difficult.
"First of all, I just want to give my prayers and condolences to his family and his extensive amount of friends and supporters around the world," Crosse said in an interview with Mic on Wednesday. "I knew Mychael because I remember I met him at an event. And I was like 'Oh, you're the guy from Project Runway!' And he was like, 'Wow you're like beautiful, fabulous.' So we exchanged info and I was just like, 'If you ever want some curves on the runway, let me know.'"
The two kept in touch, built a friendship and Knight ended up helping Crosse with her own creative ventures.
"When I started my own company, called Life of a Working Model Bootcamp, the first time I ever decided to go to Atlanta and do a bootcamp there, I asked him [if he wanted to be involved] and he said yes immediately, no questions asked. Had my back. Helped me come up with ideas, helped to post it, repost it to get the word out."
Over the years, Knight offered to make her a dress for her own bootcamp events, and the two continued their friendship.
"We would just have the funniest text message conversations," Crosse remembered. "Sometimes we would just be on the phone and talk for a half an hour, to an hour, to catch up. When we spoke, we were both encouraging each other and loving on each other."
As for why his presence and his time on Project Runway affected so many, Crosse points to just how trailblazing he was on the show.
"Mychael stepping out there on Project Runway became an inspiration for so many people across the world," Crosse said. "He is an example of the fact that representation matters, because someone seeing him, some young guy seeing him making it as far as he did on the show, says, "You know what? Yeah, I could be this guy from Atlanta with my hat to the back who's just really creative and really interested in doing this and I'm gonna go out there and do it.'"
"You can even see with some of the other designers who have been on Project Runway, they've definitely been influenced or inspired by Mychael stepping out there," Crosse concluded.